Senn Practices Art of the Deal in SC Senate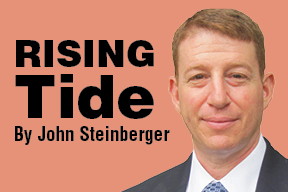 August 2, 2017
By John Steinberger | Contributing Writer
It is rare for first term State Senators to have a voice in major legislation, but Sen. Sandy Senn used her vote on the controversial "gas tax" bill to negotiate for extra local road funding for Charleston County and the 13 other "donor counties" who pay more in fuels taxes than they receive in County Transportation Funds (known as C-Funds). Senn was elected to the Senate in 2016 and represents West Ashley, James Island, John Island and parts of Dorchester County.
Senn noted during her campaign that the state road-funding formula allocates a disproportionate amount of road funding to rural counties and does not take road usage data into account when it comes to approving road projects. She filed a stand-alone bill on the matter, which never received a committee hearing. When it came down to voting on the "gas tax bill", officially known as the Infrastructure Improvement Bill, Senate President Hugh Leatherman realized that Senn's support was needed to secure the 31 votes needed to over-ride the veto threatened by Gov. Henry McMaster. Leatherman added the C-Funds increase for donor counties as an amendment.
The infrastructure bill will raise the fuels tax 2 cents per gallon each year for six years. The first increase went into effect July 1, raising South Carolina's fuels to tax 18.75 cents per gallon. When the full increase takes effect in fiscal year 2023, the South Carolina fuels tax will be 28.75 cents per gallon. By comparison, North Carolina currently pays a 29.3 cents per gallon tax and Georgia pays 39.1 cents per gallon.
The C-Funds amendment offered by Senn will result in Charleston getting an additional $14 Million in state funding for local road maintenance when the fuels tax increase is fully implemented. The bill also established an Infrastructure Maintenance Trust Fund to be used for the repair and maintenance of existing roads, a badly needed provision. It also gives the Governor the authority to nominate or fire the members of the SCDOT Highway Commission, a reform that has been mentioned for many years.
Senn received a lot of pushback on the "gas tax bill" from an issue advocacy group, which called voters in her district and got them to "patch through" to her law office on Wesley Dr., causing disruption. She plans to offer a bill to prevent the practice, known as "spoofing", in the future. She says calls should be patched through to legislators' offices.
Another of Senn's priorities has been to advocate for the completion of Interstate 526.  She along with West Ashley Representatives Leon Stavrinakis and Linn Bennett sent a letter to Gov. McMaster to replace Nikki Haley appointee Vince Graham, who is opposed to completing I-526, as the Chairman of the State Transportation Infrastructure Bank (STIB) board. McMaster complied, naming Spartanburg lawyer John White as Chairman.
The STIB met on July 20 and asked Charleston County to come up with a specific funding source for its local match to cover completion costs beyond the $420 Million covered by a pervious STIB grant. Charleston County voters approved a $2.1 Billion transportation sales tax in November, but rather than commit funds from that source, Charleston County Council Chairman Vic Rawl chose to sue the STIB for breach of contract and ask for $750 Million in damages. The lawsuit will work its way to the South Carolina Supreme Court. Members of County Council never voted to approve the lawsuit.
I believe the lawsuit will jeopardize the completion of I-526, which is badly needed to relieve congestion along Savannah Hwy and other West Ashley roads. The project can't move forward with the pending litigation. Moreover, it will place Charleston County in a negative light with the STIB when considering future projects and the General Assembly. There is a lot of "Charleston envy" in other parts of the state, and this lawsuit will likely make matters worse.
John Steinberger is the editor-in-chief of LowcountrySource.com. To contact him, email John@LowcountrySource.com.