Seniors Take Over West Ashley High
More Than 80 WAHS seniors took over for their assigned faculty member and carried out their day-to-day responsibilities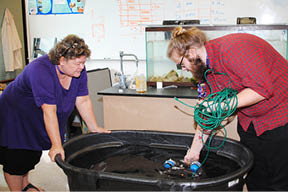 Senior Levi Mundy took over for Science Department Chair Margaret Spigner helping her prepare the practice tank for her students' underwater robots.
February 16, 2017
From Staff Reports
On Tuesday, Feb. 7, seniors at West Ashley High School took part in Senior Takeover Day. Over 80 students were involved in this year's event. Seniors were assigned to take over the job of a specific teacher, school counselor, student concern specialist, cafeteria worker, or other school employee and perform all of their duties and responsibilities for the entire day.
The program is split into two parts: Senior Shadow Day, which took place on November 17, 2016, and Senior Takeover Day, which occurred on February 7.
"West Ashley High School's mission is to empower students to grow and lead," said West Ashley High Principal Lee Runyon. "We developed this annual event in conjunction with our Work-Based Learning Program to provide seniors [with] the opportunity to learn how to apply the skills of collaboration, communication, and essential teamwork just like our staff does every day."
In order to participate, seniors applied to shadow up to three members of West Ashley High's faculty and staff; an interview process followed to see which faculty or staff member they were qualified to shadow. The students were then partnered with a specific faculty member so that on Senior Shadow Day, they follow their staff member and learned the ins and outs of their job.
Senior Takeover Day is exciting for students because it gives them the opportunity to act as that individual for the day and carry out that person's daily responsibilities such as teaching their class, running a meeting, or handling anything else that comes up. The seniors had to meet with the individual they were shadowing before February 7 to develop a game plan for when they took over.
"I think that the whole Senior Takeover Day process helps students in several areas and teaches them the process of obtaining a job," said CTE Department Chair Sandra Pennekamp. "Senior Takeover Day enhances real-life preparation and gives a sample of work-based learning."
Senior Kylie Bibler shadowed Public Relations Coordinator Donnie Newton.
"[Senior Takeover Day] gives the seniors that want to do something in that teacher's field an idea of what they might do in the future," said Bibler. "Plus, it's just a fun experience."
Even though the reasons why students chose to shadow particular faculty members varied, the end result was the same.
"I think it teaches us a lot," said Cailyn Marietti, who shadowed Prevention Specialist Doug O'Donald. "[It] opens your eyes to the world you're about to enter on your own."
Each experience, no matter who they shadowed, was a positive one. Senior Ryan Simerly took over for Outdoor Pursuits teacher Thomas Cousins.
"He's the best teacher at West Ashley and we have a very great relationship," said Simerly.
"Every year, we see our seniors become stronger leaders after they participate," said Runyon. "They frequently demonstrate a more caring approach for fellow students and concern for others after serving time working in a position as a high school educator who is tasked with service to others professionally on a daily basis."