Season 'Wines' Down
Only three more chances to sip and chill at Old Town Creek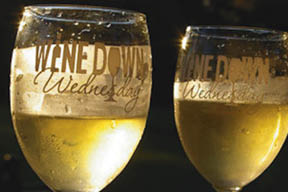 April 4, 2017
From Staff Reports
Wine Down Wednesday returns to Old Towne Creek County Park this spring! Upcoming Wine Down Wednesdays will be April 5, April 19, and May 3. The Charleston County Park and Recreation Commission invites the Lowcountry to enjoy this future park in West Ashley property and enjoy a wine social.
Old Towne Creek County Park is not yet open daily to the public, but on select Wednesdays, Lowcountry residents are invited to experience the beauty of this property during Wine Down Wednesday. Guests will enjoy wine, live music and food trucks while exploring this hidden gem located in West Ashley. Each date features new musical guests and food trucks on site from 5:30-7:30 p.m.
Charleston County residents can register in advance for $15. Non-Charleston County residents and day-of admission is $20 per person. The admission fee covers wine and a commemorative wine glass. For more information on Wine Down Wednesday, visit CharlestonCountyParks.com/WDW.
Old Towne Creek County Park, formerly Ashem Farm, was home to Charleston preservationist Emily Ravenel Farrrow and her St. Andrews Riding Academy. Located in West Ashley, the 67-acre estate is dotted with open fields mixed among groves of Live Oaks. Currently, Old Towne Creek County Park is only open for special events and private rentals, but along with several other property holdings throughout the Lowcountry, it will one day become a county park available for daily use.
Spring Wine Down Wednesday schedule:
•  April 19: Music from Thomas Champagne and Dashi food truck
• April 26: Music from Loyd Van Horn and Rebel Taquería food truck
• May 3: Music form Chris Boone and Pic-A-Nic Basket food truck