Seamless Summer Feeding
10 West AshLey Sites to Serve Meals as Part of CCSD Program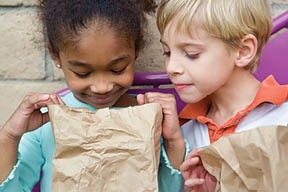 June 15, 2017
From Staff Reports
Charleston County School District's (CCSD) Department of Nutrition Services is pleased to announce 97 sites will serve free meals as part of the Seamless Summer Feeding Program (SSFP). Volunteers at places such as churches, schools, community centers, and park and recreation departments throughout Charleston County will provide meals to school-aged children.
These sites are open to the community; any child can receive a free breakfast or lunch during the summer. No application is required and they do not have to be a CCSD student.
Parents and families can also view CCSD's summer meals breakfast and lunch menu. The menu has every date that each homemade breakfast and lunch is served.
CCSD's 2017 SSFP will operate Monday to Friday, from June 6, 2017 through August 4, 2017 (excluding July 4).
There are more than 50,000 students enrolled in CCSD schools, and half of them qualify for free meals during the school year. While school is in session, those children receive two meals at no cost to their families. CCSD's SSFP bridges the summer nutrition gap that many kids face once the school year ends with free meals for kids and teens while school is out.
This program is funded through the United States Department of Agriculture and the National School Lunch Program.
The following statistics are from the District's SSFP last year:
• Served 277,885 free breakfasts and lunches
• Served 159 sites across Charleston County
• Of those 159 sites, 47 were churches or faith-based organizations; 49 were schools; and 63 were varied sites like community outreach, centers, apartment complexes, and city parks and recreation centers
• The average number of children and/or teens per site was 54.
In West Ashley, the following locations are participating in the Seemless Summer Feeding program:
• Hurd/St. Andrews Regional Library , 1735 N. Woodmere Dr.
• Pink House NRC, 1551 Mulberry St.
• Forest Park, 780 Playground Road.
• Deming Park, 1030 5th Ave.
• Lenevar Playground, 1305 Lenevar Dr.
• West Ashley Middle,
1776 William Kennerty Dr.
• Arts-A-Lot, 1250 Wappoo Road, Suite B
• Camp Charleston, 2508 Ashley River Road
• Capers Prep, 1945 Bees Ferry Road
• Second Chance Life Dome,
513 Arlington Dr.
For more information, visit the website for CCSD's Nutrition Services, or contact SSFP manager, Jeremy Tunstill, at 843-297-2240 or jeremy_tunstill@charleston.k12.sc.us.