Rock the Rescue
Tin Roof and Pub on 61 help raise money for Frances R. Willis SPCA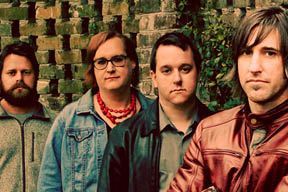 The Molotov Blues Experiment will play The Tin Roof on Saturday night as the closing act for the Rock The Rescue event.
August 16, 2017
From Staff Reports
Over the course of two days this week, 40 bands are coming together to support Frances R. Willis SPCA (FRWSPCA), located in Summerville. But two of the participating venues are located right here in West Ashley.
On Friday, Aug. 18 and Saturday, Aug. 19, The Tin Roof, located at 1117 Magnolia Road and The Pub on 61, located at 2366 Ashley River Road, will both have a full lineup with four bands each night, starting at 8 p.m. and going until 10:45 p.m. and beyond.
"It's bringing the musicians together. There's no competition. It spans genres, from hip-hop to rock to pop, and they're all willing to donate their time for one cause," says Kally Knight, Community Outreach Coordinator at FRWSPCA.
All ticket revenue from the event, as well as 10 percent of bar sales at the venues during the shows, will go to FRWSPCA to support efforts to become a no-kill shelter. Attendees can also donate money in exchange for raffle tickets and have a chance to win the Rockin' Raffle, which includes prizes such as band merchandise, gift certificates and a guitar, all donated by local businesses.
"Rock the Rescue is an innovative, collaborative event bringing together hundreds of people to celebrate music and animals," says Kim Almstedt, FRWSPCA's Executive Director. "The much needed proceeds will help with our ever growing need for emergency medical care and heartworm treatments. Each and every day, we are closer to ending unnecessary euthanasia in Dorchester County and every dollar makes a difference to change an animal's life.
All shows begin at 8 p.m. and attendees must be at least 21 years old. Two-day all-access passes are on sale for $20 until August 16. Tickets will also be on sale at the door for $7 per venue each night. Tickets can be purchased online at www.rocktherescuecharleston.com. Other venues include Shooters of Summerville and Southern Shakers Bar and Grill in Summerville and The Sparrow and Sand Shack Bar and Grill in North Charleston.
ROCK THE RESCUE
(West Ashley Events)
Friday, August 18
Tin Roof
• 8-8:30 p.m. – Dylan Swinson (Pop Punk/Rock)
• 8:45-9:15 p.m. – Glass Lashes (Pop/Electronic/Rock)
• 9:30-10 p.m. – Bullets Benign (Rock)
• 10:15-10:45 p.m. – Fulcrum (Rock)
Pub On 61
• 8-8:30 p.m. – Decadence (Metal/Rock)
• 8:45-9:15 p.m. – Caliber (Metal/Hardcore)
• 9:30-10 p.m. – Primo Noctis (Metal/Rock)
• 10:45-until – Deadontime (Rock/Covers)
Saturday, August 19
Tin Roof
• 8-8:30 p.m. – Fusion Jonez (Jazz/Funk/Blues/Rock)
• 8:45-9:15 p.m. – Stace Mattox (Rock/Electronic/Sing-Songwriter)
• 9:30-10 p.m. – The White Walls – (Rock/Americana)
• 10:15-10:45 p.m. – Molotov Blues Experiment (Rock/Blues)
Pub on 61
• 8-8:30 p.m. – Radical Sundance  (Singer/Songwriter)
• 8:45-9:15 p.m. – Go Jenny Go (Pop Punk/Rock)
• 9:30  p.m.-untill – Top Jimmy (Rock/Covers)