Right On Key
CMTA, Steinway Gallery, and Fox Music present pianist Sandra Shapiro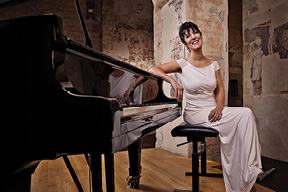 International acclaimed pianist Sandra Shapiro will teach a masterclass at Steinway Gallery on Old Towne Road in West Ashley on Saturday, Feb. 24
February 12, 2018
From Staff Reports
Every year the Charleston Music Teachers' Association (CMTA) holds an audition to encourage and reward students who have demonstrated achievement and dedication to their musical studies. The Louise Mathis Scholarship awarded thereafter allows the students to continue pursuing musical studies with their private teachers or at a summer festival.
This year, for the first time ever, the CMTA has partnered with Steinway Piano Gallery in West Ashley and Fox Music House to expand this event into a weekend-long musical venture. Its highlight is featuring international pianist Sandra Shapiro as performing artist and adjudicator. On Saturday Feb. 24, at 4 p.m., Shapiro will teach a masterclass to the winners of the competition at the Steinway Gallery, located at 1664 Old Towne Road. On Sunday Feb. 25, at 3 p.m., she will be performing a recital at Christ Community Lutheran Church, located at 8315 Dorchester Road in North Charleston. Both events are open to the public and are free admission, but donations at the door are encouraged.
"A sensitive, passionate and noble muse… compelling… brilliant… liquid sound and colors… great artistry", are terms that have been used to describe Shapiro, who enjoys an active musical life as a soloist, chamber musician, recording artist, pedagogue and lecturer. Known as a versatile performer, Shapiro appears as a soloist both in recitals and with orchestras, as a recording artist and as a highly sought-after chamber musician. She has received national and international awards with critical acclaim and recognition in each of these areas.
Shapiro's performances have taken her throughout most major cities in the United States and Europe. She has been featured in radio and television productions for RIAS Berlin; Sudwestfunk Radio Production, PBS; WQXR, Australian Broadcasting Commission and NPR. As a soloist, orchestral appearances include the Chicago Symphony, New York Philharmonic, Baltimore Symphony, Chicago Civic Orchestra, Stuttgart Symphony, Bavarian Radio Symphony, Belgrade String Orchestra, Brevard Festival Orchestra, Florida Symphony, San Angelo Symphony, Phoenix Symphony, Everett Symphony, New Mexico Symphony, as well as Cleveland Orchestra appearances at both Severance Hall and the Blossom Music Festival. Shapiro is also a Steinway Artist.