Right In Tune
Clelia's Guitar Center has been a part of West ashley For a quarter Century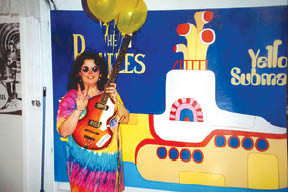 April 4, 2017
By Lyndsey Medford | Contributing Writer
Charleston native Clelia Reardon, owner of Clelia's Guitar Studio, began her career illicitly. "My dad had this guitar (my sister and I) weren't allowed to touch," she recalls, but she would sneak into the closet to tinker around with the instrument. Reardon comes from a musical family and had played piano and guitar, but when she touched the guitar, she says, "I remember: I knew that was it." One day she heard her father approaching behind her, and braced herself. "I thought he was gonna be mad," she laughs; instead, he offered to send her for lessons. That was when Reardon was 13. By 16, she was playing professionally in local jazz bands, including one that toured Europe.
By the time she'd finished her degree at USC in one of the first guitar performance programs in the country, she had been trained in classical, rock, pop, and jazz styles, and picked up the banjo, mandolin, ukulele, and bass guitar along the way. What she hadn't mastered was teaching. A bad experience attempting to teach guitar when Reardon was in high school had convinced her, at that time, that she would never be a teacher. Instead, she went to work at a music store, working her way up through every position to become the store manager. "One day," she says, "I woke up and thought, 'this isn't what I want to do with my life." She quit the job that day.
Life found her working at another music store in between guitar performances, but at this job, she says, "the universe was pushing me where I needed to go." A teacher at the store wanted to take the summer off and invited Reardon to work with his students; she found she enjoyed it enough to begin renting a space at the store and building a client base. After a few years, another push came: the store was downsizing, and the musicians would have to find a new space. Reardon went on a search and found a two-room spot with a lobby where students and parents could wait.  "I went back to [another music teacher], who was 79 years old at the time, and I said, 'Mr. Sabback, I've found us another space if you want to come with me.'" The pianist simply stuck out his hand with a word: "Partner."
Now in a different location, 26 years later, the studio hosts three guitar teachers besides Reardon and has its own space for performances and open mic nights. A few other things have changed: music, lyrics, and tablature are easier to find, thanks to the Internet. But Reardon also observes that technology has made students less patient. "Kids think they should be able to do everything right away," she says, "and adults think that once they understand something" they should have gained proficiency. The body and brain don't work that way when it comes to music, she notes, any more than the well-documented academic and emotional benefits of musicianship accumulate overnight. "There's a difference between practice and play." Reardon works hard to help her students understand how to practice so that they can become well-rounded musicians. Still, she might add that there's a difference between discipline and drudgery: "I always tell my students, 'don't take the fun out of it!' I realize this could be the one and only fun thing this student gets to do."
Reardon feels that her life has been guided by destiny, even finding room to appreciate that her inability to have children enabled her to continue teaching guitar uninterrupted. With several special students she's close to, she says, "I don't feel like I've missed out on a thing." And it's clear that she sees her job as more than running scales and organizing recitals; each lesson creative, personal, and meaningful. Reardon finds herself reflecting on the studio: "In high school, I was kind of known as the 'person with the guitar.' And that's still me. I don't think you can separate the musician from the person." With her love for music and dedication to her students, it's easy to imagine her here for much more than 26 years to come.