Restaurant-Ready
WAHS Culinary program prepares students for life in the Food & beverage world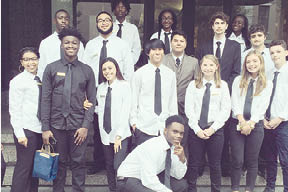 Students who participate in the Culinary program at West Ashley High School train under chef Jason Wheeles.
August 8, 2017
By Rachel Castejón | Contributing Writer
The problem of understaffing in the Charleston food and beverage industry may have found its solution in the award-winning culinary program at West Ashley High School. Churning out culinary competition state champs who are trained in restaurant management and certified in food safety and handling, chef and program director Jason Wheless assures his students graduate the program workforce-ready. With a curriculum designed by the National Restaurant Association, these students are more than qualified to begin cooking at some of the Lowcountry's best dining destinations.
Wheless has big dreams for his culinary students, including a "student-operated restaurant that is open to the public." They are already operating a gourmet bistro within the school, open to faculty and staff who schedule visits through an online system. Rising senior, Kelly Cochran, says this is her favorite part of the program. She appreciates the real world experience she's gaining and loves "the rush of the day of service."
Cochran's least favorite part of culinary class is what Wheless deems the most important quality of a great chef: "mise en place (pronounced MEEZ ahn plahs)," a French term for having all your ingredients measured, cut, peeled, sliced, grated, etc. She doesn't like the "basic and repetitive" practice of technical skills like knife cuts, essential to good mise en place. But Wheless knows, having worked in some of the Charleston classics like 82 Queen, what it takes to be restaurant-ready.
While Cochran has obviously learned much about cooking and restaurant management in the program (She came in 4th in a state-wide restaurant development competition in which she was tasked with designing a restaurant from top to bottom.), she cites stress-management, confidence, and working as a team as skills gained that will benefit her in any future career she chooses.
As Wheless prepares his students for culinary life after graduation, he has one request that he believes will enhance the experience and education of the future chefs. He would like that "more industry professionals visit the classroom to share experiences and tips from their time in the field."
That's your hint Charleston chef and restaurant owners. What better way to fill positions in our Lowcountry restaurants than with qualified and trained local talent? Although many students have gone into the food and beverage industry after high school, Wheless says he would like to see an increase in that number. Contact with local professionals who have a passion for their jobs might help do just that.

Industry professionals interested in sharing their story should contact Jason Wheless at West Ashley High School at jason_wheless@charleston.k12.sc.us.