Ready For the Stage
West Ashley to become Charleston Stage's new home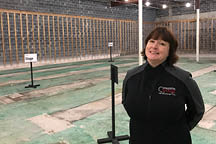 Charleston Stage's associate creative director Mary Beth Clark stands in the space that will be the new home to the local theater company.
December 19, 2017
By Bill Davis | News Editorl
Last week, patrons of the arts were given a sneak peek into the future theater in Charleston. And it just happened to be in a strip mall in West Ashley.
For its 40th year, the venerable Charleston Stage will move much of its operations from a spot next to a former Radio Shack in Mt. Pleasant to Ashley Landing located at the confluence of Old Towne Road and Sam Rittenberg Boulevard.
While the theater company will continue to present its bigger productions at the historic Dock Street Theatre on the peninsula, it will be by next summer rehearsing shows, hosting smaller productions, and holding office in what had been a drugstore next to Burlington Coat Factory.
The 10,000-square-foot space will include two studios, a rehearsal space, and a planned 120-seat black box theater that will be "open to other arts groups" for shows, says Mary Beth Clark, the theater company's associate creative director. The new space represents a near-doubling of the space the company was occupying in Mt. Pleasant for the past 14 years.
Charleston Stage already has a presence in West Ashley, with its scenery shop and costume warehouse located down Sam Rittenberg in the same strip of stores that houses Chuck E. Cheese's.
"I was giddy when I first heard about the move," says Peter Shahid, who represents a wide swath of West Ashley on Charleston City Council. Shahid, who heads up the West Ashley Revitalization Commission, adds that this is a "huge improvement" to what is the gateway to West Ashley for many residents in the Lowcountry.
Shahid also sees a future for a bigger anchor for Piccolo Spoleto in West Ashley, as well as its bigger sister, Spoleto Festival USA, which have struggled to find venues on this side of the river in the past.
Kelly Chu, co-owner of Red Orchids China Bistro located two doors down, says she is "very excited" about the upgraded neighbor.
Chu has seen Ashley Landing go from a discount store-dominated paradigm to the current one where flashy new businesses are moving in, like Starbucks and Frothy Beard Brewing Company and a recently announced addition, The Bicycle Shoppe.
"West Ashley is rocking right now," says Chu, who will wait until the theater is up and running and her diners start clamoring for dinner-and-a-show packages before committing to offering them.
Tina Shaw may be the happiest person in West Ashley about the coming move. "I am over the moon excited for this," she says. "It will be such a better facility."
For the past 15 years, she has driven one or both of her sons to the theater company's space in Mt. Pleasant. And now, the Shadowmoss mom will have the rehearsal space right around the corner.
Because of traffic, the round-trip to the current Mt. Pleasant space runs about an hour and 20 minutes. And that's just to drop off her 15-year-old son. She then has to make the same trip to pick up Luke, a sophomore at the Charleston County School of the Arts. "It was a big commitment, time wise."
Shaw, whose husband and oldest son run a family-owned, high-end men's clothing store on King Street, sees the move as a definite feather in West Ashley's cap. "It's great that a professional theater wants to come here and it speaks to the revitalization of West Ashley.
But she says, Charleston Stage families throughout the Lowcountry will come to appreciate how convenient the new location is, which is really just one turn off Interstate 26 or I-526.
Clark who also serves as director of education at Charleston Stage, says the new theater will be the perfect size for student shows, as "not every show needs a 460-seat proscenium theater."
Kyle Barnette, a founding member of What If?, a downtown theater company, says his group has always wanted to have a West Ashley presence. Parking and other issues killed expansion into the Avondale area, but Barnette says that the new black box "wouldn't just be great for a small theatre company like What If? but for West Ashley as a whole. Their presence here will only see more artistic growth in an area that seems hungry for such variety."
Barnette, who lives in West Ashley, says that many of What If?'s founding members and crew "root back" to Charleston Stage's great programs and continue to perform frequently with them.
Clark, who lives in Geddes Hall, is also a fan of the location, as well as a crucial element the new space will have that "the Dock" doesn't have: parking.
Another thing the new space doesn't have: anything. Patrons saw on Monday a huge, empty space that money and construction workers need to be poured into. But the promise of a great result should take care of both.