Randolph Park: Then & Now
Recently renovated park once again becomes a gathering place for the Stono Park neighborhood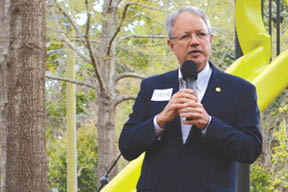 April 4, 2017
By Donna Jacobs | Contributing Writer
West Ashley Flashback gives the reader stories of St. Andrew's Parish from an earlier period of time. However, sometimes the story can be told best by connecting the present with the past. A "Now and Then" perspective can create this interesting dynamic for a community. Sometimes it is created visually in pictures, sometimes in words, and sometimes in actions.
The recent rejuvenation of Randolph Park illustrates this "Now and Then" perspective perfectly. This lovely park, located in the Stono Park neighborhood, "Now" has new playground equipment, a new water fountain and a little sprucing up due to the belief that neighbors can make it happen. Giving neighbors a safe and fun place to gather was one of the inspirations behind the drive to give Randolph Park a face-lift. In addition, many of the same neighbors have been diligently working to form the Dupont Station Neighborhood Coalition that comprises the surrounding 18 neighborhoods.
On a recent beautiful Saturday morning everyone gathered to celebrate the park and the new sense of community.
Step back to 1946; the "Then" Civic Club of Stono Park had the same spirit. The neighbors who formed the Civic Club in that year would also form a building committee chaired by Nicholas Margiotta. By 1948, the Civic Club had a Clubhouse on the two-acre lot donated by Mrs. G.P.H Rogers. For many years this Clubhouse served as a place to regularly gather for meetings, oyster roasts, Easter egg hunts and socials, not only for the Stono Park Civic Club but also for other area clubs. Unfortunately the Clubhouse did not survive the passing of time; however, the neighborhood spirit did and the new Randolph Park has been one of the catalysts to reunite neighbors under this coalition.
Club stories or other Interesting stories about West Ashley's history? Contact Donna Jacobs at westashleybook@gmail.com.