Quite the Team Player
Sophomore Madison Clayton shines for West Ashley High School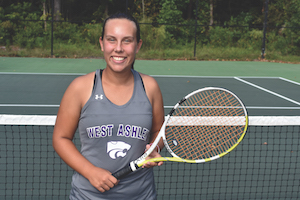 Photo By Holli Pettis
October 17, 2017
By Tyler Harrison | Contributing Writer
Sophomore Madison Clayton is currently enrolled in online school via Connections Academy, but since she lives within the district, she's able to play on the West Ashley High School Varsity Girls Tennis Team. "She is driven to become the best player, teammate, and student, and it shows daily," says WAHS varsity girls tennis coach Jaima Kennedy.
Clayton was extremely surprised when she learned that she was this week's Athlete of the Week. "It feels great," she says. "Not going to West Ashley is hard sometimes, but being picked makes me feel really included."
Clayton has been a part of the WAHS varsity girls tennis team since the start of the 2014 season as a 7th grader. This season marks her fourth consecutive year on the varsity team, where she currently plays in the number one spot; a ranking that she has held for the past two years.
Considering she takes classes online, and with tennis being an individual sport, many might think it would be difficult for Clayton to bond with her team, but that's hardly the case.
"Although we play matches individually, in the end, it's a team sport," says Clayton. "I absolutely love all the girls on this team and the wonderful bond we all have." Her coach would agree. "Madison is a great team player," says Kennedy. "She pushes herself and her opponents to their limits [while] at the same time encouraging her teammates."
Clayton's friends and family are part of the reason she is such an accomplished tennis player. "My best friend and my dad played, so I became interested in [tennis]," says Clayton. She believes that her biggest supporters and motivators are her parents. They have always encouraged her to do whatever she can to improve. "Aside from practicing with the high school team, [Clayton] also trains with a private trainer several hours a day, working to be the best she can be," says Kennedy.
"This season I've been working on mental toughness," says Clayton. She has been challenging herself to do her best every match and to leave everything on the court. She likes to have the feeling that she tried her best, even in the matches she loses. "Walking off the court after losing a match, but feeling like I've won is an amazing accomplishment," says Clayton. Her fight and determination is unmatched by many of her opponents. "She always comes ready to work with a smile and a positive attitude," says Kennedy.
Currently, even though she is only a sophomore, Clayton holds the number one spot on the Varsity team, and she's been number one for the past two years. She has played on the Varsity team since she was a seventh grader, and she continues to improve her singles game. This, paired with her mental toughness, is a recipe for success.