Principal For A Day
West Ashley Residents Participate in Principal for a Day Program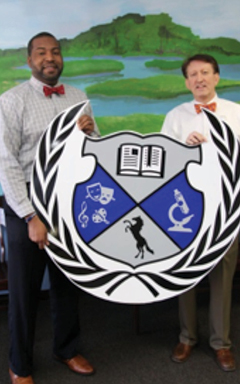 March 30, 2016
From Staff Reports
Two West Ashley residents and executives at Select Health of South Carolina were selected to participate in the Charleston Metro Chamber of Commerce Principal for a Day program Wednesday, March 2. Select Health offers First Choice, the oldest and largest Medicaid health plan in South Carolina, and is part of the AmeriHealth Caritas Family of Companies.
Courtnay Thompson, director of plan operations at Select Health and a Carolina Bay resident, shadowed Catherine Middleton, principal at Ashley River Creative Arts Elementary School. Philip Fairchild, director of network operations at Select Health and a Park Shore resident, shadowed Kevin Smith, principal at C.E. Williams Middle School for Creative and Scientific Arts.
"I was extremely impressed with the students' creativity and abilities, and I have a renewed appreciation for the teachers and administrators who are shaping our youth," said Thompson. "There are so many amazing things happening at Ashley River, and I left inspired and invigorated to bring a new level of ingenuity to my team."
Both executives volunteered their time to learn about the day-to-day operations of a school and offer business world perspectives to the challenges faced by principals. They appeared on their respective school's morning news programs, toured classrooms, met with students and teachers throughout the day and attended meetings with their principals. In turn, both principals will visit the Select Health's North Charleston headquarters during the summer to learn what it's like to operate a Medicaid managed care organization.
"I met Mr. Smith several times before visiting his school and appreciate his desire to bring quality education and a love of the arts and sciences to students of West Ashley," said Fairchild. "It is also very special that Mr. Smith was a middle school student at this very school when he was a teen."
As part of Select Health's mission to help people get care, stay well and build healthy communities, Select Health nominates several members of its leadership team to participate in this annual program. Principal for a Day was created in part by Tricia Crimminger, director of communications at Select Health, when she was employed by the Charleston County School District.