Preventive Maintenance Not Being Done on Drainage System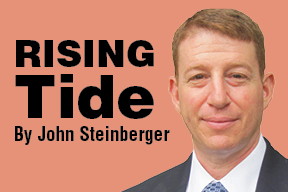 August 31, 2017
By John Steinberger | Contributing Writer
The $300,000 Church Creek Drainage Basin Study, launched in August, has revealed that the City of Charleston has no preventive maintenance schedule for the drainage system. Community meetings organized by the engineering firm Weston & Sampson attracted residents from Shadowmoss, Hickory Farms, Hickory Hill, Ashford Place, Springfield, Grand Oaks, and other neighborhoods who claim that the city does not perform maintenance on culverts, storm drains, or drainage pipes. City of Charleston Public Works Director Laura Cabiness attended meetings at St. Andrews United Methodist Church and the Crosstowne Community Church and did not refute the claims or articulate the city's plans to improve the drainage system. The area has experienced massive flooding events since August 2015.
The City of Charleston has ceded the community outreach efforts to Weston & Sampson and its subcontractor Atlantic South Consulting. The outreach efforts have been focused on Homeowners Associations (HOAs) and have excluded neighborhoods like Springfield, Asheford Place and others which don't have HOAs. Members within HOAs have told Lowcountry Source that they were not notified about the community meetings.
Among the maintenance problems cited at the community outreach meetings held to date are the failure to clear debris from culverts on a periodic basis, clogged pipes and storm drains which aren't cleaned out, and the changes in water outflow due to new construction, the Bees Ferry Road widening project and the paving of West Ashley Circle. Charleston City Councilman Dean Riegel, who faces challengers Summer Massey and Harry Griffin on Nov. 7, said, "We've done a terrible job of managing our resources. We have been re-active rather than pro-active." Many people attending the meetings have reported repeated complaints about drainage problems to the city with no response or action.
People in the Ardmore and Sherwood Forest neighborhoods have discussed repeated flooding events at a City Council meeting and stated that repeated calls to Public Works staff have not resulted in getting clogged ditches and storm drains cleared. Lisa Hutto, who owns Piccolo Hair Salon on Ashley River Rd., says that a clogged pipe results in water and debris in her parking lot every time there is heavy rain and that repeated calls to fix the problem have been ignored.
Many residents attending the community outreach meetings expressed concerns about the planned Harmony Development, which would add 300 cluster homes along Church Creek. No elected officials or city staff members at the Crosstowne Christian Church meeting could verify the status of the project. It is believed that the green light has been given by city staff and that approval from the Army Corps of Engineers will determine the project's future because of its wetlands location. Residents in nearby Ashford Place and Canterbury Woods expressed concerns about hundreds of trees being cleared in the development zone and truckloads of soil being dumped in the wetlands without a building permit being issued.
The transparency of the permitting process has also been questioned. Shadowmoss resident Kim Simmons questioned the City of Charleston's Technical Review Committee (TRC) process. She said, "The TRC process needs to be modified. It does not allow citizen input and does not take into account overlapping jurisdictions (which include Charleston County, the South Carolina Department of Transportation, and the Army Corps of Engineers)." Simmons also noted that the Charleston Design Review Board (DRB), which does allow public input, is not allowed to address traffic and flooding impacts on planned developments. Mayor John Tecklenburg expressed openness to reforming the TRC process as part of his Performance Innovation Program.
Weston & Simmons is a very accomplished engineering firm. Project manager Bob Horner is a James Island resident and has vast knowledge of the problems existing in the Church Creek Drainage Basin. The drainage study will be presented to Charleston City Council on Oct. 24. To help provide the firm with your first-hand knowledge of existing drainage problems in the basin, e-mail photos with dates and comments to HornerR@WSEINC.com. Comments must be submitted by Sept. 15. We also need to have non-HOA meetings scheduled in the area so that all voices may be heard.
John Steinberger is the editor-in-chief of LowcountrySource.com. To contact him, email John@LowcountrySource.com.