Power of Positivity
Student of the Month Darryl Knight models what it means to be a True Wildcat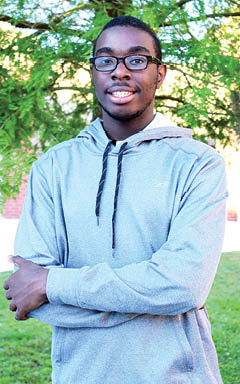 Photo By Isabella Wilkinson
May 11, 2017
By Haley Cutaia | Contributing Writer
Darryl Knight is an eleventh grader at West Ashley High School with compassion, kindness, and an energy that is unmatched. He appreciates the honor of being Student of the Month and feels as though he earned the title because of his ability to get along with everyone. His compassion comes from West Ashley High teacher Luke Hamilton.
"[Darryl] continues to be a perfect example of the type of student we are looking to promote here at WAHS," says Hamilton. "He often receives high praise from his teachers as he consistently comes to school with a positive attitude, a willingness to learn, and a smile that lights up each classroom he enters." Knight truly enjoys high school. "You get to meet new people and teachers [and] learn about chemicals, animals, and habitats," says Knight. His favorite subject is science because he enjoys working on projects and learning about his favorite animals like the cheetah.
As much as Knight has impressed Hamilton, Hamilton has impressed Knight. "He is funny, compassionate, and always helping others," says Knight. "[West Ashley High teachers] are very nice, they love a lot, and they know how to have fun."
Because of Hamilton's class, Knight has been able to participate in extracurricular activities around the school such as landscaping and cleaning up the school grounds. His local work doesn't stop there either. "He is extremely patient, enjoys helping others, volunteers often, and also holds down a part-time job within the local community," says Hamilton. Knight works at Little Caesars Pizza where he makes pizzas and helps with advertising. He considers this job one of his biggest achievements.
It was working at Little Caesars Pizza, and seeing how the hospitality industry really works, that opened Knight up to the food industry as a potential career. Knight hopes to one day own and operate his own restaurant which will serve all kinds of food. To achieve this goal, he hopes to attend Trident Technical College to learn more about the industry.
Knights's other hobbies, aside from learning at school and working after school, include playing video games and soccer. He also likes learning about how things work, which is part of the reason science is his favorite subject in school.
Because of his love for meeting new people and teachers, leaving high school will be no problem as he explores the business world. His parents have influenced this mindset the most, encouraging him to do good things and be a good person. "They teach me what things are good to do and what things aren't good to do," says Knight. When asked what advice he could give to others Knight responded, "Be a positive person, have a good attitude, and show respect." It's refreshing to see that Knight truly believes and lives by his own advice.
"[Darryl] embodies what it means to be a West Ashley High School Wildcat," says Hamilton. "As his teacher, it makes me extremely proud that he continually represents our school and community in such a positive manner."