Pickin' On West Ashley
Charleston Bluegrass Festival comes to the Middleton PLace Wooodlands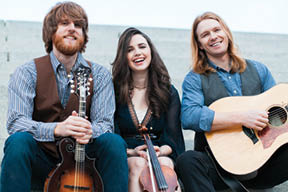 North Carolina's The Barefoot Movement will play the Charleston Bluegrass Festival Friday evening.
April 4, 2017
By Lorne Chambers | Editor
For the first time ever, the Charleston Bluegrass Festival will be held in West Ashley. This weekend more than 20 local and touring bluegrass bands will be a part of the festival, held April 7-8 at the Middleton Place Woodlands, located at 4279 Ashley River Road in the historic plantation stretch of Highway 61, across from the Middleton Equestrian Center.
The Charleston Bluegrass Festival has partnered with Middleton Place Woodlands, Aiken Bluegrass Festival, The Bee Cause Project, and Adam Gorlitsky's non-profit "I Got Legs." Gorlitsky became the first paralyzed man in history to walk 1,000,000 steps in road races with the help of a robotic exoskeleton.
After a couple year hiatus, Awendaw Green and 105.5 The Bridge are bringing back the Charleston Bluegrass Festival, providing two days and two nights of great music, food trucks, craft beer, family camping, and Lowcountry fun along beautiful lakes, forests, and fields on the 6,000-acre property. Coastal Expeditions will be on hand to demo kayaks and paddle boards, which will also be available for rent.
Previously located at the Seewee Outpost in Awendaw, festival founder Eddie White says that the camping element there was not ideal so he held off doing it again until he found the right spot. White says the owners of Middleton Place Woodlands have considered using the space for events but this is the first time it has happened. "It is a gorgeous wooded property with lakes and fields," says White.
Headlining the festival this year is Band of Ruhks, featuring experienced pickers Ronnie Bowman, Don Rigsby and Kenny Smith, who played together in the 1990s with the Lonesome River Band. In 2001, each member embarked on their own personal musical journeys. Then in 2010, following a Lonesome River Band reunion performance, the three began to explore the possibility of making music together again. They realized the significance of their past works, but were itching to make new music together. Out of this desire and their longstanding friendship and mutual admiration, Band of Ruhks was born.
Gates open at noon Friday, and the show goes from 5 p.m. until midnight. Gates open at 10 a.m. on Saturday and the show goes from noon until midnight.There will be two stages going throughout Friday and Saturday.
Friday's lineup includes: The Grass Is Dead (a Greatful Dead bluegrass band), The Barefoot Movement, Fireside Collective, Southern Flavor Bluegrass, Southbound 17, Steady Hand String Band.
Saturday's lineup includes: : Band of Ruhks, Forlorn Strangers, Dallas Baker and Friends, Flatt City, The Bushels, Triangle Bluegrass, Pinkerton and The Brinks, Violet Bell, Red Cedar Review , Daniel Patrick, The Black Iron Gathering, Cane Creek String Band, YeeHaw Junction, The Pluff Mud String Band, River Boy, Sauratown, as well as an all-star jam assembled by local picker Dallas Baker to close out the festival.
Food will be available throughout the festival fom Big Southern BBQ, Fauzias Kitchen, King of Pops, Damiano Woodfire Pizza, and more. In the beer garden, there will be local beers from Freehouse, Coast, Palmetto, Tradesman, Fatty's, and more.
Advance Tickets are available until April 6, and tickets will also be sold at the gate the day of the festival. To purchase tickets and for more information about the event, including the full performance schedule, visit AwendawGreen.com or find it on Facebook at "Charleston Bluegrass Festival 2017."  Advance tickets are available on picatic.com, awendawgreen.com and Facebook: Friday $15, Saturday $25, weekend $0, RV (Electric, no water, 2 tickets) $200, RV (No electric, no water, 2 tickets) $175, Campsite $15/2 people [family], $ 10/single, Kids $ 10 [6-12], Kids under 6 Free! Plus online fees You can purchase advanced tickets until April 6 at www.picatic.com/event14865870887443. Day of Tickets: Fri $20, Sat $30, Weekend Pass $50 at the gate.
The Charleston Bluegrass Festival will be held April 7-8 at Middlton Place Woodlands, located at 4279 Ashley River Road. For more information,
visit www.awendawgreen.com.