Pickin' On Home Team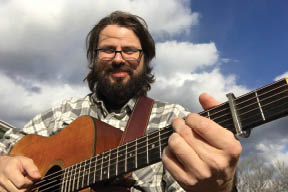 June 15, 2017
From Staff Reports
Asheville-based singer, songwriter, and flatpicker Ken Chapple headlines Fiery Ron's Home Team BBQ's Bar-B-Qued Bluegrass event next week. An award-winning guitarist and songwriter in bluegrass and acoustic pop genres, Chapple will be playing along with his band Another Country as part of a three-night Home Team event that has him playing at the West Ashley restaurant on Wednesday, June 21, the downtown Home Team on Thursday, June 22, and Sullivan's Island on Friday, June 23.
Chapple was the bandleader for Portland-based bluegrass band, Wayward Vessel, who has performed at major bluegrass festivals all over the Pacific NW, including Wintergrass, a northwest string summit. Wayward Vessel took second place in the prestigious Telluride band contest in 2012. Currently Chapple lives in Asheville, NC and is playing with the band Another Country.
Chapple is well respected among pickers, so much so that roots music journal No Depression puts him in pretty rare air with some of bluegrass' most respected musicians. "Ken's music, as a whole, will be at that Bela Fleck / Ricky Scaggs / Doc Watson / Tony Rice / Norman Blake level soon – he won't be a minor league player for long."
Chapple is also a guitar instructor in Asheville. "I enjoy producing original music, and helping folks improve their guitar playing, he says. "I have been playing guitar for nearly 25 years, and have studied and performed classical, jazz, rock, folk and bluegrass styes of guitar."
Ken Chapple and Another Country will play Bar-B-Qued Bluegrass  on Wednesday, June 22 at Home Team BBQ, located at  1205 Ashley River Road. For more information, call 225-7427 or visit www.hometeambbq.com.