Off and Running
West Ashly hosts 23 teams for 11th annual Sandlapper Track & Field Classic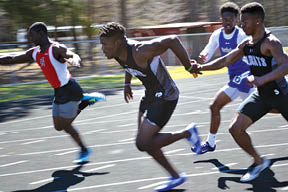 Photo: Junior Jordan Pettigrew is handed the baton by senior Isaiah Whitney during the Boys 4x100-Meter Relay.
March 8, 2017
From Staff Reports
Considered the unofficial kick off for the season, The Sandlapper Track & Field Classic was held Saturday, March 4 at West Ashley High School, marking the 11th time the Wildcats have hosted the event. The event was founded in 2007 by WAHS and the Sandlapper Real Estate Group, which is owned by former Citadel Bulldogs, College World Series, and Boston Red Sox veteran, Gettys Glaze. This year, 23 teams from South Carolina, North Carolina, and Georgia competed in the 11th Annual Sandlapper Track & Field Classic.
"The Sandlapper Track & Field Classic is one of the biggest preseason events in the area so it's a great event to get a feel for how the season may unfold," said Head Girls Track Coach Douglas O'Donald. "It's a great meet for local teams and those from neighboring states to compete in and get a good feel for what events their athletes may excel in. West Ashley had a great showing and finished sixth overall in the event so we are hoping for big things this season from our student-athletes."
West Ashley High's Boys Track Team came in fifth place this year with a total of 74.5 points. Stratford took first place with 108 points, Summerville took second with 107 points, and Wando took third with 86 total points.
In the Boys 100-Meter Dash, West Ashley High senior Isaiah Whitney came in third place with a time of 11.38. Recent West Ashley graduate Darrell Singleton, who now attends the University of South Carolina, beat the stadium and meet records in this event last year with a time of 10.61.
Whitney then took second place in the Boys 200-Meter Dash with a time of 22.92 while sophomore Gregg Gethers came in fourth with a time of 23.09. Last year in this same event, Singleton beat the meet record with a time of 21.86.
Gregg Gethers, Davon Campbell, Isaiah Whitney, and Jordan Pettigrew, members of West Ashley High's Boys 4×100-Meter Relay Team A, came in second place with a time of 43.61 while West Ashley High's Boys 4×400-Meter Relay Team A, consisting of Brandon Williams, Julian Taylor, Shemar Thompkins, and Isaiah Whitney, came in third place with a time of 3:37.83.
In the field events, senior Davon Campbell competed in the Boys Long Jump and came in first place with a score of 21'-00.25". Cornelius Gallon came in eighth place in the same category with a score of 19'-07". Jonathan Legare took second place in Boys Discus Throw with a score of 133'-08" while senior Robert O'Donald threw 45'-03" in the Boys Shot Put, coming in second place as well.
West Ashley High's Girls Track Team finished the meet in 16th place with 7 points. Wando came in first place with 143 points, Miller Grove came in second with 121 points, and Summerville finished in third place with 72.7 points.
The members of the West Ashley High Track Team performed better at this year's event, thus improving their overall score compared with their performance at last year's event. They came in 11th place out of the 17 schools that competed at the 10th Annual Sandlapper Track & Field Classic.
This year, West Ashley High's Track & Field Team finished in sixth place overall with a total of 81.5 points. The schools that placed in the top five were: Miller Grove in fifth place with 121 points, Hilton Head in fourth with 123 points, Stratford in third with 159 points, Summerville in second with 179.7 points, and Wando in first with 229 points.