New West Ashley Library Getting Off The Ground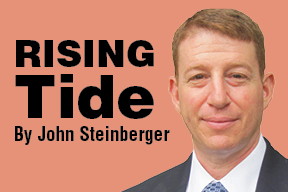 July 26, 2017
By John Steinberger | Contributing Writer
It has been nearly three years since Charleston County voters overwhelmingly approved a $108.5 Million bond referendum to build five new libraries and renovate 13 others. A schematic design has finally been produced for the new West Ashley library and a site has been selected. The 20,000 square foot facility will be located on the West Ashley High School campus.
The new library will include a computer training area and dedicated spaces for young children, teens and community meetings. Audio-visual equipment will be installed for presentations. The library will be equipped with state-of-the-art self-checkout kiosks and an automated book return conveyor system. A July 24 public presentation was held (after press time) on the library plans.
The 2014 referendum was controversial in Republican circles. I was among a very small number of Republicans who publicly supported the project. Someone approached me and asked, "Why do we even need libraries now that people can download books on their tablets?"
The fact is, not everyone owns a tablet or can afford to download books. I consider libraries to be a core function of government and an educational asset to people of all backgrounds. Charleston County has not expanded its library program since 1986. Since then, population has grown 27% and library circulation has increased by a whopping 278 percent. There are more than two million user visits per year. Obviously, people are still using libraries!
Every time I visit the Cynthia Hurd Regional Library behind Village Square Shopping Center, I notice that all of the computer terminals are in use. There are many people who lack internet access at home and use the library computers to search job postings or complete on-line courses to give them marketable skills.
The Charleston County library system lags well behind service standards recommended by the state library board. The state recommends that county library systems provide three computer terminals per 1000 residents. Charleston County currently provides less than a third of that amount. A major goal of the 2014 initiative is to provide more computer terminals to users. When the new (yet to be named) West Ashley library is completed, the Hurd library and the library at South Windermere Shopping Center will be retrofitted with more computers. Staff will be added to provide computer training.
During the West Ashley Master Plan process, it has become clear that West Ashley needs more public meeting space. The owners of The Schoolhouse, a renovated elementary school converted into an office complex, have graciously opened up their auditorium for planning meetings. The new library will provide state-of-the-art meeting spaces for the people along the rapidly growing and under-served Bees Ferry Road corridor.
We know from the 1986 library expansion that the 11-member county library board will deliver exactly what it promised in the ballot initiative. All of the projects were specified in the 2014 referendum. The costs of the initiative are being funded through a property tax increase. Owner-occupied homeowners are paying $11.20 per $100,000 in home value annually for the new libraries and renovations. When the libraries are open, another $6.80 per $100,000 will be added to property tax bills for staffing and operating costs.
Ground is expected to be broken for the new West Ashley library in the winter of 2018 with an anticipated opening in 2019 or early 2020. It will be located alongside West Ashley High School, the planned West Ashley Center for Advanced Studies (a technical center), and the new C.E. Williams Middle School. It will be a great educational asset where teens and pre-teens can do research and work on presentations in enclosed, supervised study rooms. I'm sure this long-anticipated facility will be well worth the wait!
John Steinberger is the editor-in-chief of LowcountrySource.com. To contact him, email John@LowcountrySource.com.