New Head Chef Gives Ms. Rose's a Fresh Start
Executive Chef Matthew Paul to focus on fresh, local ingredients with new lunch, dinner, and brunch menus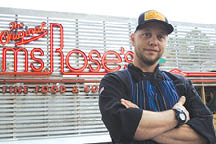 December 21, 2016
From Staff Reports
Ms. Rose's Fine Food & Cocktails has recently welcomed a new chef to the kitchen of the popular West Ashley eatery. Executie Chef Matthew Paul's attention to the smallest details and undeniable passion for the industry shines throughout the new menus at Ms. Rose's.
Originally from Pennsylvania, Paul has been in the Lowcountry for more than 14 years. He graduated from Penn State University with a degree in Business Administration and graduated Magma Cum Laude in Culinary Arts from Johnson & Wales University (JWU) in 2002.
Throughout his career, Paul has achieved much success in the kitchen. Some of his greatest highlights include cooking at the James Beard House, placing first in the 'Moonshine Throw Down', placing second in the City Wide Shrimp and Grits Competition plus helping open, establish, and grow Lowcountry Bistro downtown on the market.
"My cooking philosophy is simple; use fresh, local ingredients and to keep a positive attitude in the kitchen," says Paul. "I'm very excited to be working with the entire team at Ms. Rose's."
The new menus feature innovative items for lunch and dinner, as well as the classic Ms. Rose's favorites. New additions to the menu include Lowcountry Pulled Pork, the Carolina "Juicy Lucy" Burger with Pimento Cheese and caramelized onion, Sweet Potato Fingerling, Port Braised Short Rib and much more. To view the full new menus, visit MsRoses.com.
When not in the kitchen, Matthew enjoys spending time with his wife, Rozanna, of eight years and his two beautiful girls, Izzy and Mary. As a family, they enjoy camping and fishing from their dock. Paul is also an avid baseball player and has been playing in a local league for the past 10 years.