Mug Shots
Weekly incident reports for West Ashley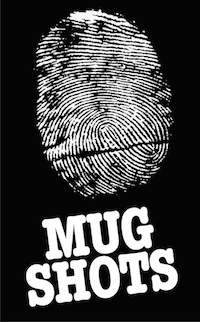 January 9, 2018
From Police Reports
The following were taken from actual incident reports filed last week by the City of Charleston Police Department. These are not convictions and the names of businesses, complainants, and suspects have been left out to protect the innocent. All suspects are  innocent until proven guilty … of course.
December 30 | AGGRAVATED ASSAULT, FIREARM
Police arrested several men after one of them fired four 9-mm shots at officers in a West Ashley apartment complex. During a traffic stop on Carriage Lane, the suspect's car accelerated away, apparently hitting a man in a parking lot. The car then turned onto Ashley River Road, pulling into an apartment complex, where officers suspected the driver and passengers would try to flee on foot. But then the driver shot at the officers four times with a handgun before he and two other men fled on foot. The driver and alleged shooter was soon apprehended and charged with a host of felonies, and the remaining passengers were identified.
December 30 | VANDALISM
A Bent Hickory Road family told police that two bullets had been fired into their home. Police investigated and determined the bullets came from outside the residence, that at least one passed through three different walls, and that it was lodged in the wall above the family's television.
December 30 | CRIMINAL DOMESTIC VIOLENCE – AGGRAVATED ASSAULT WITH A FIREARM
A Beechwood Drive woman told police that her boyfriend came into their apartment that night as she slept on a mattress in the living room, pushed her up against a wall, and put a handgun to her temple. She said the man was intoxicated and acting erratically, telling her he would "shoot her, pistol whip her, or break all of her windows." When she said she was calling the police the man fled. She said they had been living together since November.
December 31 | DOMESTIC DISPUTE
Police arrested two women at a Magnolia Road watering hole after they fought over bathroom usage. Both women said the other had instigated any violence that began after they squabbled about how long one woman was taking in the bathroom and the other woman "banging and hitting the door violently." A witness said both women were combatants.
December 31 | DRIVING UNDER THE INFLUENCE
Just an hour before the New Year, a man who had just rear-ended a car and then backed into a light pole told police he "knew he was drunk, and that he was ready to go to jail." Police found the man unsteady on his feet, with slurred speech, and smelled of alcohol. They also found in his car three, 1.5-liter bottles of vodka. One bottle was empty, and another had "minimal amounts left."
December 31 | CRIMINAL DOMESTIC VIOLENCE
A juvenile living at a Tall Sail Drive address called and told police that her parents were fighting, but the mother called back and said to cancel the report. Regardless, officers investigated, and once the mother was pulled out of the apartment she began to detail an attack where she'd been choked, pushed, and picked up of the floor by her hair. She said she and her husband had been trying to make things work but a fight broke out between them. Officers noted the woman's still-bleeding finger and circle bite wound on her shoulder. The juvenile and a neighbor had recorded parts of the incident on their cellphones.
January 1 | DISORDERLY CONDUCT
Police responded to a complaint that a small group of juveniles had set off fireworks in Citadel Mall, causing some stores to close fearing a live shooter scenario. Officers trailed them through the mall, arresting three of them. A mall worker identified them as the culprits, and they were soon charged and released to their families.
January 1 | INJURED PARTY
Police arrested a psychiatric patient with a bloody nose and wearing blue paper scrubs in woods near Henry Tecklenburg Boulevard after he'd escaped from a local hospital. The man had been committed to the hospital and was still receiving care. The man's nose was bleeding, which appeared to have been injured when he ran face-first into a pole while making his escape. While sedating and securing the man, another patient made a dash for it, and was soon restrained and returned to his room.