Mug Shots
Weekly incident reports for West Ashley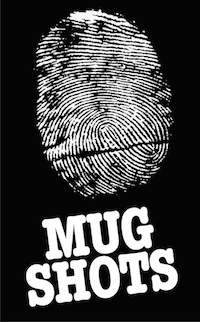 December 14, 2017
From Police Reports
The following were taken from actual incident reports filed last week by the City of Charleston Police Department. These are not convictions and the names of businesses, complainants, and suspects have been left out to protect the innocent. All suspects are  innocent until proven guilty … of course.
December 4 | GENERAL INFORMATION
Police responded to a taxi pulled over in the median along Old Towne Road to investigate a report of a cabbie pulling a gun on a fare. The fare claimed that he needed to run into his residence to get the money to pay for the ride once he got there. At this point the cabbie pulled the taxi over, saying the man would not be allowed to get out of the car without paying, and produced a handgun, laying it between his legs. The rider then called police after a brief but intense argument ensued between the two. Both men claimed the other threatened them during the exchange, claims which both men denied. 
December 4 | USING VEHICLE WITHOUT CONSENT
A local woman told police that she had driven her son to her Ashely Crossing Drive job so that at her lunch break she could take him to be examined for a suspected hairline fracture in his right foot. But when she took her lunch break, neither her son nor her car were still in the business's parking lot, which worried her since she knew her son didn't have a valid driver's license. Three hours later, the woman received a call from the Camden County Sheriff's Department asking if her car was being used without her consent. When she said it was, she was informed that the car was involved in a pursuit in that county after refusing to stop after blue lights had been initiated on it there. She was then told that her son and three other people were in custody there.
December 4 | BURGLARY, BREAKING AND ENTERING
A Palmetto Park Drive man told police that he and his niece had a revolver drawn on them as they entered his home by three men rummaging through his residence. Two of the men were described as being 6-foot 5-inches with clothes over their faces. The three men then left, and ran into a nearby wooded area. While canvassing the area, police found a television and a generator belonging to the homeowner in a neighbor's yard.
December 4 | BURGLARY, BREAKING AND ENTERING
An employee at an Ashley River Road cemetery reported to police that someone had broken into their office building through the front door, disturbed nothing, and left a pair of flip-flops behind. Police also found a pair of pliers and a machete nearby.
December 5 | CRIMINAL DOMESTIC VIOLENCE, SIMPLE ASSAULT
A Bantry Circle woman told police that her husband attacked her after an argument regarding a "chore list" for chores to be done around the house. The couple had apparently decided to separate but live in the same residence as roommates, and she preferred the idea of splitting daily tasks. She claims that when she decided to leave the apartment for the night, her husband slapped her four times in the face, and that he would not allow her to leave because of possible suicide attempts. The woman insisted that she'd made no suicidal threats during the exchange and that he was using an August attempt on her own life as a reason to keep her in the apartment.
December 6 | THEFT FROM BUILDING
A municipal employee told police that someone had pried open the backs of several washing machines at a city Housing Authority-owned laundry facility on Dupont Road. The employee estimated that close to $900 in quarters had been stolen, but would soon know exactly after checking the computer logs on the machines.
December 7 | AGGRAVATED ASSAULT WITH A FIREARM
An Ashley River Road convenience store employee told police that one of their co-workers had fired three shots from a legally-licensed gun during an incident involving an apparently armed man crouching down outside behind a dumpster with a drawn handgun and a mask over their face. Once the man behind the dumpster raised his firearm to chest level, the other employee apparently fired three rounds in the direction of the masked man. Police found a semi-automatic magazine in the area near the dumpster, but not the masked man.