Mug Shots
Weekly incident reports for West Ashley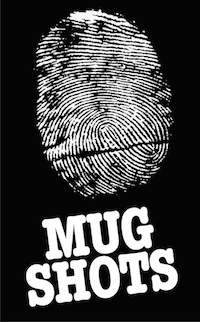 December 6, 2017
From Police Reports
The following were taken from actual incident reports filed last week by the City of Charleston Police Department. These are not convictions and the names of businesses, complainants, and suspects have been left out to protect the innocent. All suspects are  innocent until proven guilty … of course.
November 28 | Intimidation
An officer responded to a local mental health center where employees were reporting that a former client was repeatedly threatening their lives, saying over the phone he was nearby with a rifle, ready to shoot everyone from workers to a judge. After searching the area, it was determined the calls were actually coming from a cellphone in Hawaii. The former client's mother said she believed he was living on a boat somewhere in the Hawaiian Islands, and that he may be upset that he received a monthly stipend for his inheritance instead of a lump sum amount.
November 28 | Traffic arrest
Police found the driver of an orange Jaguar asleep behind the wheel of his running car in the drive-thru of a Savannah Highway fast-food restaurant. After the man said he had misplaced his license and gave what appeared to be a false name and information, police met with his girlfriend at a local hotel. The woman told police the man's real name. A records check showed the man was driving and sleeping behind the wheel, with a suspended license.
November 29 | Drug, narcotics violation
Police arrested a man walking around in the mud in the dark under the bridge near Northbridge Park. After the man gave stuttering information, police searched him and found a small baggie containing a white crystalline powder that appeared to be methamphetamine.
November 29 | Injured party
Police arrived at the corner of Mary Ader Avenue and Glenn McConnell Parkway where a woman was claiming to have been thrown from a moving car. Police reported the woman had no apparent injuries, that she was slurring her words, and was very unsteady on her feet. When an officer attempted to get more information, the woman said, "call my brother," who is a sheriff in Wisconsin and to "get away from me." She soon told EMS personnel that she hadn't been thrown from a moving car, but that her boyfriend had actually pulled over and she got out of the vehicle. At the hospital, the woman refused to give any more information, saying, "I'm out of here" before trying to leave the facility.
November 29 | Telephone calls, harassing, obscene
A Sam Rittenberg Boulevard man told police that a person who had "catfished" him online was refusing to leave him alone. Recently, the man who is now involved with another woman, had received 134 emails from the shrouded woman who was using a fake name. In addition to this, the man said the somewhat anonymous woman had been leaving him packages at his home and on his car. The man traced the calls back to North Charleston, where the middle-aged woman's son has confirmed that the phone number and email address used to contact the man belonged to his mother.
November 29 | Using vehicle without consent
An Egret Crest Lane man with a suspended driver's license complained to police that a man to whom he had lent his car for errands wouldn't return the vehicle. Police stated that this has been an ongoing issue, with another friend borrowing the car without permission before for four days despite repeated calls for him to return it. Officers met with the man and his mother, instructing him to give her his keys until he gets his license back.
November 29 | Forgery, counterfeit
A White Oak Drive man told police that he'd received a nearly $2,000 fraudulent check for a moped he was attempting to sell for $650. The man had listed the moped on an internet marketplace website, and received a notice that a man wanted to pay the full amount plus extra for shipping costs, and that a "friend" would come by to pick up the moped. A cashier's check soon arrived, but proved to be fake. The man said no one had come to pick up the moped.