Mug Shots
Weekly incident reports for West Ashley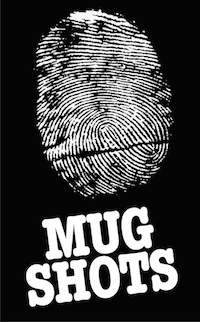 October 17, 2017
From Police Reports
The following were taken from actual incident reports filed last week by the City of Charleston Police Department. These are not convictions and the names of businesses, complainants, and suspects have been left out to protect the innocent. All suspects are  innocent until proven guilty … of course.
October 10 | CRIMINAL DOMESTIC VIOLENCE
Police charged an Ashley Crossing Drive woman with domestic violence after she allegedly punched her ex-boyfriend in the face with a closed fist, causing a small cut on the left side of her mouth. The woman told police that they had been arguing after she evicted him from his apartment, saying: "I closed my fist and punched him because he was tempting me and [expletive] me off!"
October 10 | FLIM-FLAM
A N. Woodmere Drive woman told police that she'd lost several hundred dollars as the result of a job she found on a College of Charleston website. The woman said the company sent her close to $3,000 to shop and conduct surveys at different stores, and then report back to a company representative. Soon, she was told to send several thousand dollars to another company representative, but by then the original check had already bounced, costing the woman $2,700.
October 10 | IMPERSONATION
A Colleton Drive woman told police that someone had stolen her identity and run up a $17,000 bill in her name in Tampa. The woman said she'd received a notice of unpaid rent totaling that amount, but had disregarded it as she thought it was a scam. A call to the collector turned up that her name, Social Security number, and parents' names had been used.
October 10 | SHOPLIFTING
Police charged a woman with shoplifting at the West Ashley Wal-Mart after more than $100 in store items were found in her purse. Those items included an inflatable lawn ornament, light rope, multiple glow sticks, and a dress.
October 11 | ROBBERY BY HAND
A Beechwood Drive woman told police that as many as five unknown men attacked her as she sat in her backyard, "foot stomping on her head" causing her to lose consciousness. She reported that her cellphone and Adderal was stolen. Police noticed a bruise on her forehead, but after her "entire forehead began to swell to a concerning level of injury," the woman was taken to the hospital.
October 11 | TELEPHONE CALLS, OBSCENE, HARASSING
A Savannah Highway man told police that he'd received two dozen threatening and vulgar calls from unknown callers. The callers said they were going to kill the man, or "shove a baseball bat in your [expletive] or just kill you."
October 12 | DRUGS, NARCOTICS VIOLATIONS
Police arrested a man who had been parked in a car in front of a Savannah Highway grocery store. The man initially said he was waiting on a friend who was applying for a job at the grocery. But police soon noticed an open beer inside the car, as well as nearly a quarter-pound of marijuana on the floorboard. A subsequent search of the car yielded two electronic digital scales. The man also had warrants for DUI, resisting an officer, and possession of marijuana.
October 12 | SIMPLE ASSAULT
Police arrested a man who grabbed another shopper by the neck and shoved him into a display of televisions at a West Ashley discount store. The victim told police that he had approached the man as he was being rude to a female store employee. At this point the man turned and grabbed the victim by the throat with both hands and slammed him into the TVs. The victim's father struck the man on the back of the head to try and get him to let go. The attacker later told police that the other shopper had "gotten in his personal space," and "used profanity."
October 12 | ALL OTHER LARCENY
A man who dropped his wallet at a Bees Ferry convenience store discovered that close to $600 cash had been removed from it when the wallet was later returned. Surveillance cameras showed an employee picking up the wallet, going into the bathroom where there are no cameras, and then returning the wallet to the counter. The employee claimed the wallet was empty when it was found.