Mug Shots
Weekly incident reports for West Ashley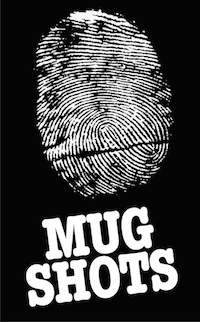 August 31, 2017
From Police Reports
The following were taken from actual incident reports filed last week by the City of Charleston Police Department. These are not convictions and the names of businesses, complainants, and suspects have been left out to protect the innocent. All suspects are  innocent until proven guilty … of course. 
August 21 | VANDALISM
Police responded to a report that a woman was trying to attack a second woman with a sledgehammer at a Savannah Highway motel. Police determined that both women were mutual combatants, as the second woman had allegedly thrown a "pitcher" of bleach into the first woman's car.
August 21 | CRIMINAL DOMESTIC VIOLENCE, ASSAULT, KNIFE
A Proximity Drive woman yelled to police, "He has a knife," when they responded to her apartment on a possible domestic violence complaint. The woman tried desperately to get into the officer's cruiser as her husband stood in the doorway of the apartment. The two had begun arguing after watching the eclipse together downtown, while having drinks. The woman took a cab home, and claims that when her husband arrived home he accosted her with his hands and a bar stool. The woman claimed he later took her cellphone from her and then brandished a kitchen knife, saying, "I don't think you understand the severity of what I'm about to do to you." The man denied any physical altercation, other than his wife stabbing him while he was doing the dishes.
August 21 | MOTOR VEHICLE THEFT
A Savannah Highway car dealership service manager told police that someone stole a new $72,000 SUV off their lot.
August 21 | SHOPLIFTING
A loss prevention worker at a Savannah Highway grocery store waved-down a passing police cruiser, claiming a man who had tried to shoplift close to $500 in meats and crab legs had run into the woods in the Avondale area. Police recovered the food items and soon the man fitting the description in a nearby bar.
August 21 | INJURED PARTY
Police responded to a W. Oak Forest Drive home where a man was threatening to kill himself and a police officer. The man walked out of his house, allowed police to pat him down for weapons, and then sat on the porch and explained what was going on. The man said he was waiting for DNA results on his allegation that he'd been raped multiple times by multiple people, and that he wanted police to kill him "in order to end the pain." The man was transported to local hospital.
August 23 | TRAFFIC ARREST
Police arrested a man wearing a Redskins shirt for driving erratically without a driver's license with a baby in the car along area roads. Once stopped, the man told police that he had no license and that he was "actually a Habitual Offender." Police had been on the look out for the car as it was reported to have been part of a shoplifting incident earlier.
August 23 | SHOPLIFTING
A worker at a Sam Rittenberg Boulevard women's lingerie store told police that a female shopper had made off with 10 pairs of leggings worth close to $600.
August 23 | BURGLARY, BREAKING AND ENTERING
An Ashley Hall Road woman told police that she woke up in the middle of the night and found a man standing next her bed as she slept. The woman said the front door had been locked, but that she'd been given "some sort of weird screw thing that is supposed to lock the window." The woman screamed for the man to get out, and he did. Police searched the apartment for other intruders, and found nothing missing.
August 24 | MOTOR VEHICLE THEFT
A woman told police that someone had stolen her $11,000 car from where it was parked at a local hospital. Police found curved tire marks coming from the parking spot meaning it could have been tow-dragged from the spot. Police soon discovered that a debt collection agency had bought the car from the creditor she financed it through.