Mug Shots
Weekly incident reports for West Ashley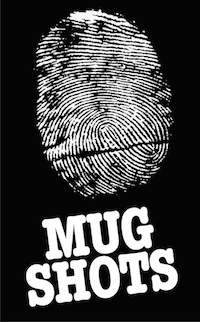 July 5, 2017
From Police Reports
The following were taken from actual incident reports filed last week by the City of Charleston Police Department. These are not convictions and the names of businesses, complainants, and suspects have been left out to protect the innocent. All suspects are  innocent until proven guilty … of course.
June 20 | CRIMINAL DOMESTIC VIOLENCE, AGGRAVATED ASSAULT
A William Kennerty Drive apartment resident called police and said that "somebody upstairs just got body slammed." The resident said a man left the upstairs unit and fled in a car. A woman living upstairs said she wasn't completely sure what had happened, and that at some point she may have passed out. She did say it was possible that her assailant had "stomped on her arm."
June 20 | CRIMINAL DOMESTIC VIOLENCE, INTIMIDATION
An Egret Crest Lane woman told police that her husband was drunk and had a small head wound. The woman had been locked out of their home for two hours, as the husband had locked the deadbolt on the front door. When he finally let her in, she noticed his wound and overturned coffee table. When police arrived and prepared to take the man to a local hospital, on his way to grab some shoes from a bedroom, the husband whispered, "I am going to kill you," she says
June 20 | CRIMINAL DOMESTIC VIOLENCE
An Ashley Crossing man told police that his wife punched him in the face after he made smart remark about her "recent unfaithfulness" and what she was wearing. The man told police that when she was walking out the door with a pair of high heels, she told him, "I'm gonna wear these for him tonight." When the man retorted, "I bet you are," he claims she punched him. The wife admitted to the argument, but denied striking her husband, and left to spend the night at a friend's house.
June 20 | MISSING PROPERTY
A King Street woman told police that her "pro-life" specialty license plate was missing from the back of her car after she dropped it off at a Savannah Highway dealership for flood-damage repairs. The dealership told the woman they do not have her tag. Earlier, the car was sent accidentally to Savannah without her permission.
June 20 | SIMPLE ASSAULT
A William Kennerty Drive man told police that he bit the hand of his ex-girlfriend because she would not release his eyeglasses as he moved out. The man said they had fought the night before and decided to break up, and that he would move in the morning. That morning, he said she was yelling at him to leave, and when tried to get his glasses back, refused. At some point his ex-girlfriend went and got a hammer, and began threatening him with it. Additionally, the man said his ex-girlfriend continued to yell at him and throw some of his items off the balcony. The woman told police that she did strike the man in the head, as well as threaten him with a hammer. Officers, unable to determine who the aggressor was in this situation, arrested them both.
June 20 | SHOPLIFTING
A loss prevention officer reported having seen video of man throwing thousands of dollars in store items over the garden section of the Walmart two days before. The items included a 60-inch television, several mixers and a floor steamer. The man had several prior arrests for shoplifting.
June 21 | SIMPLE ASSAULT
An employee and a witness at a Sam Rittenberg Boulevard fast-foot restaurant told police that a co-worker punched the employee in the face after being told to stop calling the employee "dumb," illiterate, and other slurs. The co-worker apparently continued to verbally assault the employee and witness until he was told to stop, at which point he "mugged" the employee in the face. The co-worker then drove away in an SUV.
June 21 | DRUG, NARCOTICS VIOLATION
Police raided a Willian Kennerty Drive residence and found more than 10 grams of a "white rock-like substance," more than 3 grams of a "white powdery substance," multiple pills, baggies of suspicious substances, a digital scale, a bong, and two joints.
June 21 | MISSING PERSON
A Trailmore Drive man told police that a friend visiting from New York was not acting normal, including rambling conversations and tangents. Her friend reportedly suffers from PTSD and a brain injury sustained in military combat. After trying to help his friend buy a bus ticket home, the visiting man instead began wandering North Charleston, returning several times to the man's residence. The man convinced his friend to go to the VA for help, but the next morning the friend and the man's car were missing. The friend is described as having a green dragon tattoo on his neck.