Mug Shots
Weekly incident reports for West Ashley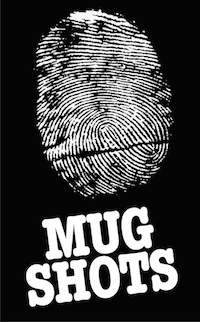 June 7, 2017
From Police Reports
The following were taken from actual incident reports filed last week by the City of Charleston Police Department. These are not convictions and the names of businesses, complainants, and suspects have been left out to protect the innocent. All suspects are  innocent until proven guilty … of course.
May 24 |ROBBERY, KNIFE
A man told police that another man he'd been drinking with throughout the night stabbed him in the neck. The man said he was leaving an Ashley Pointe Drive hotel in the wee hours of the morning when the other man asked for a ride. Once in the man's vehicle, the other man locked the doors and ordered the man to "Give me the [expletive]" and then began to stab the man with a folding pocketknife. The man, holding an orange T-shirt to his neck outside the hotel, told police he jumped out of the vehicle, and that as he was running away when the other man drove off with his truck. He said he thought the other man was referring to money.
May 28 |CRIMINAL DOMESTIC VIOLENCE, SIMPLE ASSAULT
A Mary Ader Avenue woman told police that her former boyfriend "tried to steal my soul." The woman broke up with the man seven months ago because, she claimed, of his attempts to convert her to Islam. Last week, the man came to town to meet with her, and was giving her a ride when she claims he tore off her shirt and punched her in the side of the head. She claims to have then jumped out of his still-moving car, and run back to her apartment. She claims the man has since been stalking her at her home and her work, and has become more aggressive since being released by an out-of-state detention facility, where he allegedly was housed due to "his involvement in a prostitution ring." A spot could not be found for her at a local women's shelter, as it was undergoing renovations.
May 28 |THEFT FROM BUILDING
An Elsey Drive couple reported a man stealing an expensive iPhone from them that they were selling by saying he needed to check the phone with the computer in his car. The man then drove off with the $750 phone. The couple said the phone was brand new and that its tracking capabilities hadn't been activated. Police noted they had been called for exactly the same reason at another residence 45 minutes earlier.
May 28 | ASSISTING OTHER AGENCIES
 A suicidal Verdier Boulevard resident told police they had taken an unknown amount of Claritin in an apparent attempting to harm themself. The resident admitted to having suicidal thoughts, and had a three-time history of suicide attempts. Officers found in the residence a host of prescribed psychotropic medication bottles, as well as several suicide notes in the bedroom.
May 30 | THEFT FROM A MOTOR VEHICLE
A man getting his car serviced at a Savannah Highway car dealership claimed that he discovered he was missing 15 $100 bills from the dash of his car after the work was done. All three employees who worked on the car denied any wrongdoing and that the car's console was never opened. They stated someone had "eyes" on the car at all times and they doubted someone else could have come in and taken the money.
May 31 | ALL OTHER OFFENSES
A Nottingham Drive man ran from police soon after telling them someone else had stolen his father's truck. Police found his father's truck on Ashley River Road with major front-end damage. Police produced a warrant to search the man's cell phone messages, and soon found text messages that read, "Nahh I wreak last night," six hours after he filed the complaint. When a friend asked the man, "Omg what did u hit." Based on text conversations, police confronted the man, who then fled on foot.
May 30 | TELEPHONE CALLS, OBSCENE, HARASSING
A Nautical Circle man told police he'd been receiving threatening email messages from a former work associate, who allegedly has been filling up his voice message bank so customers can't get through to him. The messages included statements that read: "cant wait to run into you," "you got one coming to you," "our next face to face, Cant wait, Be ready!" and "Get you a drink … Lol! Drinking wont save you either! It might numb the pain you got coming …" among others.