Mug Shots
Weekly incident reports for West Ashleyy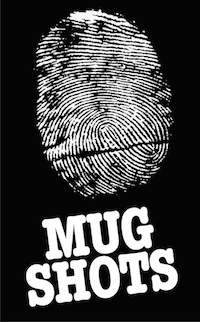 April 4, 2017
From Police Reports
The following were taken from actual incident reports filed last week by the City of Charleston Police Department. These are not convictions and the names of businesses, complainants, and suspects have been left out to protect the innocent. All suspects are  innocent until proven guilty … of course.
March 24 | THEFT FROM MOTOR VEHICLE
A customer at a Savannah Highway car dealership complained that a bevy of his outdoorsman equipment went missing after he dropped off his truck for servicing. Management reviewed security cameras and saw no employees entering the truck. Nevertheless, the man said he was missing $400 in sunglasses, as well as tow straps, various construction tools, and a $420 flashlight set, among other items.
March 24 | SWINDLE
Management at another Savannah Highway car dealership reported two women using fake identification came into the lot together and fraudulently purchased through a loan two almost identical cars. The women presented all the bank and other documents needed to purchase the vehicles, including seemingly legitimate driver's licenses, and drove off with matching 2016 cars. But soon the dealership received a call from a third woman stating she'd just been notified by her insurance company a vehicle had been purchased under her name that she knew nothing about.
March 24 | SIMPLE ASSAULT
Police met with a woman and a man in a wheelchair on Ashley River Road after they claimed to have been accosted by a man for apparently walking through his "spot" near the intersection of Magnolia Road and 5th Avenue in Maryville. The woman said the man pushed her to the ground ad punched her with a closed fist after demanding what they were doing there.
March 27 | THEFT FROM A BUILDING
A Grech Street man reported that his former girlfriend had returned to his apartment, stolen $200 in change, thrown five of his outfits in a nearby dumpster along with other personal items, and sent him a text reading: "I'm the real hustler now." A neighbor had seen the woman earlier walking presumably in the direction of the dumpster.
March 27 | SIMPLE ASSAULT
A Sequoia Street woman said her neighbor, riding a hoverboard, blocked her from parking her car, incited a verbal argument, and then struck her vehicle with a baseball bat. The woman said her neighbor also broke out the window of her apartment with the bat. The neighbor told police that she was riding the hoverboard and that the woman came out of the apartment, yelled at her, and then struck her in the forehead. Officers could not decide who the primary aggressor was, but noticed the neighbor had a large amount of swelling on her forehead.
March 27 | MOTOR VEHICLE THEFT
A Kensington Drive woman told police that her neighbor called her and said someone was stealing her expensive European car. Another neighbor spied the driver while walking their dog. Police soon located the car and detained the driver after a brief foot pursuit. Both neighbors identified the man as the one who had driven off with the car.
March 27 | DRUGS, NARCOTICS VIOLATION
While being arrested on a simple possession charge, a juvenile began resisting arrest near the intersection of Sam Rittenberg Boulevard and Ashley Hall Road, going so far as to spit on an officer and attempt to kick out the interior partition between the front and back seats of the police cruiser. After being placed in handcuffs after a very small amount of marijuana was found, the young girl began screaming profanities at the responding officer. SHe was additionally cited for driving without a driver's license.
March 28 | BURGLARY, BREAKING AND ENTERING
An Inverary Court mom told police that her neighbor's child had broken into her home and stolen her child's gaming console without permission. The woman said that security camera footage at her home showed the other child lifting her garage door, and later leaving in the direction of his house with what appeared to be the missing console. She added that the other child had been inside her house multiple times in the past as a friend and caretaker, and as such had the door code to her home.
March 28 | DRUGS, NARCOTICS VIOLATION
Police arrested a man with a loaded, stolen handgun that had a laser pointer on it on Ashley River Road after they responded to the area following complaints of drug activity. They found the gun, which had hollow-point rounds in the magazine, in an "unzipped" backpack. They also found several grams of marijuana.
March 29| GENERAL INFORMATION
A couple dining at an Ashley Pointe Drive restaurant reported their waiter following them out to the parking lot and threatening them with a knife. The incident apparently came after a verbal dispute with the waiter over them not leaving him a tip.
March 29| WEAPONS LAW VIOLATION
Police arrested a teenaged student for bringing pellet gun to class. The student told police he brought it to school to avoid getting in trouble with his mother, because he wasn't supposed to have it in their home.