Mug Shots
Weeky incident reports for West Ashleyy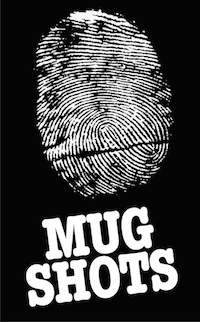 March 15, 2017
From Police Reports
The following were taken from actual incident reports filed last week by the City of Charleston Police Department. These are not convictions and the names of businesses, complainants, and suspects have been left out to protect the innocent. All suspects are  innocent until proven guilty … of course.
March 2
VANDALISM
A N. Sherwood Drive resident told police that he'd heard a loud noise in the wee hours of the night outside his home. When he went outside to investigate, he discovered that someone had thrown three red bricks through the windshield of his SUV and his friend's sedan that were parked in the driveway.
March 7
WEAPONS LAW VIOLATIONS
Officers on patrol near Evergreen Street and White Oak Drive began chasing a fleeing convicted felon on a bicycle, arresting him in the parking lot of a nearby restaurant. Once officers placed the man in handcuffs and ordered him to lay facedown, a fully loaded pistol fell out of the top of the man's pants. A records search discovered that the man had a prior felony conviction for assault and battery with intent to kill 15 years ago.
March 7
THEFT FROM A MOTOR VEHICLE
A West Ashley man told police that he picked up a friend of eight years that he'd met in prison, at a Savannah Highway convenience store. The man said he'd driven the man around town all day long, trying to help him out. They made stops at apartments, the man's grandmother's house, before going to a local skatepark, and then onto Wal-Mart. When the man returned this car after five minutes in the Wal-Mart, he noticed the man and his belongings were gone, as well as his own cellphone and car charger were missing.
March 8
THEFT FROM A BUILDING
A Glenn McConnell Parkway man told police that his ex-girlfriend had stolen his dog when she left after their breakup. The man said the woman had taken the dog for a walk, but never returned. The man said he had proof that it was his dog prior to their relationship. The woman said she took the dog because she claimed the man had kicked the dog and was abusive toward it.
March 9
IMPERSONATION
A man discovered at a West Ashley bank that multiple fraudulent accounts had been taken out using his identity without his permission. Additionally, the man found a host of checks issued on those accounts that he didn't authorize  for amounts ranging from $1,000-3,000.
March 9
Simple assault
Police arrived at a W. Harrison Road address to find a man with blood surrounding his face and mouth on the steps. The man said he had been staying nearby with a buddy, sleeping on the couch, when his buddy woke him and began punching him repeatedly in the face "regarding an ex-girlfriend." The man said he and his buddy were currently intoxicated. When asked what happened, the man's buddy said, "I beat his ass." The knuckles, on his right hand were bloody, the buddy said from punching the man in the face. The buddy added that the man did not strike him in any way, and was later determined to have suffered a small nasal fracture.
March 9
TRESPASS
A manager at a Savannah Highway grocery store that a man claiming to be its former sushi maker returned to the store for a fourth time, demanding $110,000 and threatening civil court. The manager said the man never worked for the store and had the man placed on a no trespass order. The man had worked for the sushi counter contractor and was fired several years ago for making threats. Police arrested the man, as he had apparently violated the order.
March 9
Theft from building
An employee at a Glenn McConnell Parkway apartment complex told police that a group of three men working out at the facility's exercise room had a few days ago stolen a 4-foot painting of lips off the wall.
March 9
INTIMIDATION
An Ashley River Road man told police that a customer to whom he'd sold a house trailer several months ago returned to argue about it's being moved from its location. The man said the customer pointed his hand like a pistol and threatened to "get you" and ""beat your ass." The customer told police the two had argued, but that he never threatened the man.