More Snow Heading Our Way!
Mex 1 Celebrates its 5th Anniversary with a Snowboard Rail Jam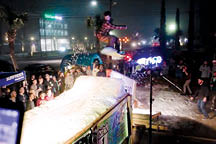 Mex 1's Snowboard Rail Jam & Five Year Anniversary Party will be held Saturday, Jan. 13, from 5-11 p.m. at 817 St. Andrew's Blvd. Entry costs are $15 (includes a drink), kids 12 and under get in free. Ticket information is available at Citypapertickets.com or the Mex 1 Facebook Page.
January 9, 2018
From Staff Reports
While most in West Ashley have had enough ice and snow for quite a while, Mex 1 Coastal Cantina is bringing back just a little bit of the white stuff for a few hours for a special event celebrating the Baja-inspired surf bar and Mexican restaurant's fifth anniversary.
On Saturday, Jan. 13, snow machines will be brought in to produce 18,000 pounds of real snow as Mex 1 throws an anniversary bash, complete with a snowboard rail jam put on by Holy City Events. The party is open to the public and will take place from 5-11 p.m. at the flagship Mex 1 Coastal Cantina located in West Ashley at 817 St. Andrew's Blvd.
DJ Natty Heavy will provide the tunes and Mex 1 will open an outdoor bar, there will be drink specials from Pacifico, Tito's, and Exotico Tequila, prize giveaways, and Pro-Am snowboarders launching themselves onto a 20-foot rail no more than 10 feet from applauding spectators. Attendees are encouraged to dress in their best mountain town attire, and there will be a special prize awarded to the "Best Snow Bro" and "Best Snow Bunny" at the event.
It's been 5 years since owners Roddy Smith and Dave and Chrissy Lorenz opened the doors to their first Mex 1 Coastal Cantina in West Ashley. Their second location on Sullivan's Island celebrated its 1-year anniversary last year, with plans in the works for more locations. Time has flown over the last 5 years, but Lorenz is looking forward. "We feel lucky to have 5 years under our belt. We attribute our success to our awesome crew, and the supportive community here in Charleston," he says. "We're looking forward to the next 20 years as we grow and develop the Mex 1 brand."