MOJA Comes to West Ashley
Renowned Violinist Daniel D. performs special Free concert at Magnolia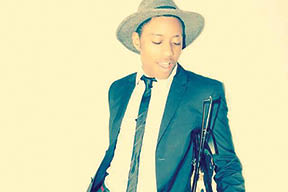 October 4, 2017
From Staff Reports
As part of the MOJA Artst Festival, classically trained contemporary violinist Daniel D. Will perform a special free concert at the community garden at Magnolia Plantation and Gardens at 6 p.m. on Friday, Oct. 6.
Daniel D. began performing live at age 12. A graduate of the Charleston School of the Arts, he gained national recognition as a teenager for his blend of Hip Hop, R&B, and Gospel with performances for President Barrack Obama, Oprah Winfrey, and  Michael Jackson and as a featured performer on B.E.T. His energetic and interactive performances have attracted a loyal following with nearly 700,000 Facebook followers and a full-time touring schedule with performances at festivals, theaters, corporate events, universities and professional sporting events. Daniel has released five albums and is currently working on his 6th studio album.
Now a Seasoned Entertainer at 28 years old, Daniel D. currently resides in Denver and has produced five albums. His most recent single made it to the top 50 on the Indie Charts.