MEMORIES OF MAGNOLIA
Fourth-generation gardener reminisces about growing up on historic plantation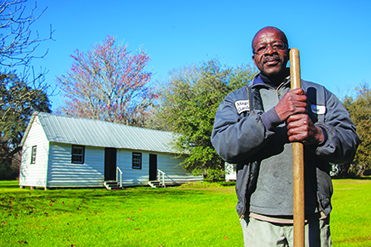 Isaac Leach lived in the old slave quarters at Magnolia Plantation as a child.
February 19, 2013
By Hannah Dockery
Staff Writer


Fifty-four-year-old Isaac Leach walks back to the cabin he was raised in on the grounds of Magnolia Plantation. "This place never gets old," he says, looking around at the Spanish moss dripping from live oaks. The scent of camellias that Leach has spent his life pruning mixes with morning dew. He points to a cabin in the distance. "That's it," he says.
Though the five former slave cabins on Magnolia Plantation have been transformed to historical museums educating and fascinating visitors from across the world, for Leach, the place is home. Most guests don't realize that workers occupied each of the houses through the 1960s.
Leach, a fourth-generation gardener, looks up at his old homestead, and remembers what life was like as a young boy on Magnolia. Although the cabins were first built under the horrific conditions of slavery, the gardener has nothing but fond memories of growing up on the historic plantation. The humble homestead housed Leach, his parents, and six siblings, but it never seemed crowded. It was just the way things were.
"We would build bonfires right in the middle of the grounds, and stay up playing hide and seek under the full moon until 2 or 3 in the morning," he recalls. "It was always a safe haven here, when things on the outside were tough. There was trouble downtown and on James Island, but not at Magnolia."
Trouble is perhaps an understatement; during the height of the Civil Rights Movement, the nation was a hotbed for sit-ins, protests, and boycotts that often turned violent. Battles of black versus white erupted daily as America struggled to move past a dark and turbulent history. But even with hatred right outside his door, Leach didn't conform to the angst of society. "It was a scary time but, you know, my father always said, 'don't have hate in your heart.' So I didn't."
In 6th grade, during the midst of a national crisis hinging on the color of one's skin, desegregation swept through the Charleston community and Leach moved from the all-black Wallace school to Springfield Elementary. As one of the only African-Americans at Springfield, Leach remembers being afraid of the transition into school with mainly whites, but he adjusted quickly and made friends easily. "If you have love behind you, you can do anything," says Leach. "We were just kids then. I got in some fights with a few bullies, but we were just learning together. My white friends gave me the nickname Midnight," he recalls, laughing. "And some of those bullies are my best friends today."
His story of triumph during tumultuous circumstances is captivating. For a kid in the '60s, living on land that once housed slaves proved to be shaky at points. His African-American friends didn't understand how he could live on a plantation, given the history of slaves that lived there a hundred years prior. But for Leach, it's always been clear. "It was safe. We knew the history. We knew what happened here. We wanted to take the bad and turn it into good."
These days, Leach works on the gardens at the plantation nearly every day, beginning at 6:30 a.m. His father, at the age of 89, still makes time to work on the gardens as well. Up at 4 a.m. every day, Leach's dad gets out to the plantation and, if his son is more than five minutes late, he's waiting there to scold him. "I have so much respect for my father. I'm almost 55, but I don't make a major decision without talking to him first," says Leach. And the tradition continues. With two boys of his own, ages 15 and 22, they're already falling in love with the magic of Magnolia, helping out on the landscaping and taking in the sights of the place where their father once ran around as a young boy.
And, though the divide between plantation owner and plantation worker once represented no greater disparity, the gap has closed, as Leach speaks highly of "maybe the smartest man I've ever met" — the 11th generation Drayton, Taylor Drayton Nelson. Two entirely different backgrounds. One lasting friendship.
A few weeks ago, Leach and Nelson were sitting by the river, enjoying a warm winter afternoon when two women walked by with James Avery, or perhaps more commonly known as Uncle Phil from the Fresh Prince of Bel-Air. "He recognized us from some old pictures that are hanging up in the main house, and he wanted to hear our story," Leach explains. "So, we began talking and after we were done telling about growing up on Magnolia, the women were crying. I think they knew we were talking from the heart."
The house, the gardens, and the tours are all reasons to visit Magnolia Plantation, but perhaps the greatest treasure of all is Isaac Leach.