Making A Difference
West Ashley High Partners with Zaxby's on Teacher of the Month Program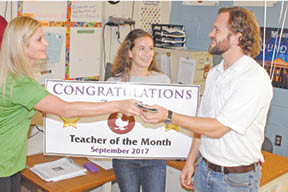 Zaxby's Catering and Philanthropy Director Rachel Dailey presents Kenneth Brinckman with a $50 gift card, Zaxby's stadium cup, and a koozie when he was named the September 2017 Teacher of the Month. Ashley Kennerly, co-advisor of the Wildcat P.R.E.S.S. Team was on hand to help announce the first winner.
November 10, 2017
From Staff Reports
"The Teacher of the Month program is about giving back," said Zaxby's Catering and Philanthropy Director Rachel Dailey. "Teachers shape the minds and impact the lives of individuals every day, it's the most selfless career and needs to be recognized."
West Ashley High School and Zaxby's have partnered on a Teacher of the Month program, which is something that is very important to both groups. According to WAHS spokesperson Donnie Newton, one of WAHS's goals this year is to show teachers that they are important, that they are valued, and they matter. He says this program gives teachers the ability to nominate a coworker who they think goes above and beyond the classroom.
Students can nominate teachers as well. It was important to both WAHS and Zaxby's that when program was being put together that students had a say. After all, they are the ones who spend the most time in the classroom with their teachers every day. "[Students] are the best witnesses to acts of kindness, outreach, and the support that each teacher provides to their students and fellow colleagues," said Dailey. However, teachers are the only ones that get to vote on the winner based on that month's nominees.
The program will run each year from September through June, giving 10 teachers the opportunity to be recognized for their hard work. Here's how the program works: teachers and students are both sent a nomination form which they are given three days to fill out. Once that window closes, the names and reasons the Top five teachers were nominated are then sent out to the entire faculty for voting.
The winning teacher is surprised by representatives from Zaxby's, their mascot, Little Zach, and the teacher's supervisor.  At the end of the school year, the faculty will vote on a Teacher of the Year who will then win a $200 gift card and a Zaxby's logo YETI Tumbler.
"We want to focus on community partnerships and it made perfect sense to work with a great school right across the street from our location," said Dailey. "We have employed many students through the years and we enjoy seeing the high school's students dine at our restaurants after school. It's a great way to give back to our community!"