Local Church Home to Historic Organ
Organ dedication for Prized 1963 pipe organ recently relocated to Holy Spirit Lutheran Church on Bees Ferry Road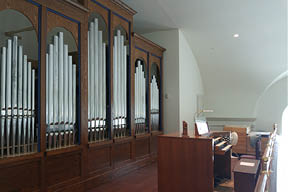 February 9, 2017
From Staff Reports
The Holy Spirit Lutheran Church on Bees Ferry Road is now home to a historic William R. Quarterman Memorial Pipe Organ, which was originally located in the rear gallery of the nave of the former St. Richard of Chicester Episcopal Church, the gift of the late Edward Charles Flinn. It was built by Robert Noehren of Ann Arbor, Mich.
The instrument was removed from the church and taken back to the Buzard organ factory in Champaign, IL. There it was cleaned and re-regulated. The console was refurbished and the chests inspected, cleaned and tested. Any repair to the pipe work was administered by the tonal department. Originally equipped with a combination setter board, the console has since been outfitted with a multiple-memory solid state combination action. Also, a 5-bell Zimbelstern and 32' Resultant were added in 1988. When it was just recently installed in the new sanctuary building at the Holy Spirit Lutheran Church a new façade and several ranks of new pipework were added.
The organ's original builder Episcopal Noehren played dedicatory recitals on the afternoon and evening of Dec. 29, 1963. And this Sunday, Feb. 12 acclaimed concert organist Stephen Buzard, whose father founded the company that restored the organ, will perform at dedication recital at Holy Spirit starting at 4 p.m.
Buzard is the Director of Music at St. James Cathedral in Chicago, where he's also the principal musician, playing the organ for services and directing the Cathedral Choir. In addition to his church work, Mr. Buzard keeps an active solo recital schedule. His recording "In Light or Darkness," available through Delos Records, has received wide critical acclaim.
Buzard holds a Master of Music degree from the Yale Institute of Sacred Music. While at Yale, Mr. Buzard served as organ scholar at Trinity on the Green, New Haven, Connecticut; as principal organist of Berkeley Divinity School at Yale University; and as organist for Marquand Chapel, Yale Divinity School. Mr. Buzard earned his Bachelor of Music degree from Westminster Choir College in 2010 where he studied organ with virtuoso Ken Cowan. While an undergraduate, Mr. Buzard was concurrently organ scholar at Trinity Episcopal Church in Princeton, N.J. and Director of Music for the Episcopal Church at Princeton University. Before starting at Yale Mr. Buzard spent a year in England as Senior Organ Scholar of Wells Cathedral where he accompanied and conducted in daily services and assisted in the training of the boy and girl choristers
Stephen Buzard will play the organ dedication on Sunday, Feb. 13 at 4 p.m. at The Holy Spirit Lutheran Church, located at 3075 Bees Ferry Road. For more information, call 766-2602 or visit  www.holyspiritcharleston.org.