Life Unscripted: Making It
The subjective definition of success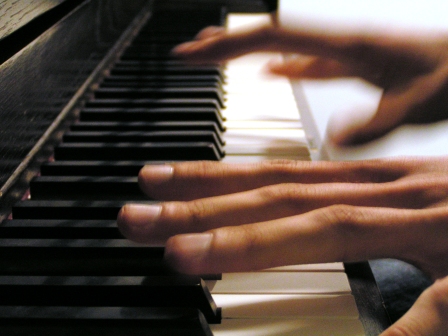 March 25, 2013
By Katie Wells
I'm in the Big Apple this week. A city that tests what you are made of and where sometimes, just sometimes, dreams come true. I'm in the Big Apple because my brother wrote the score for a musical called Piggy Nation that is debuting "off Broadway" next weekend. When I say "off Broadway," the show is in the Snapple Theater, which is literally just off Broadway, beside Times Square, across from performances of Mama Mia and one street over from performances of Chicago.
Over the course of last weekend, I had the pleasure of meeting the owner of the Snapple Theater, the writer of Piggy Nation, the animator for the book series of the same name who also works on The Simpsons, all of the actors in the performance, and some of my brother's friends who are living and working and struggling in New York City. There have been a lot of conversations about "making it." And, let me clarify, NOT "making it big" — just plain and simple "making it."
So, what does "making it" really mean? In my eyes, this New York debut of my brother's musical composition equals success! I referred to it as his "big break!" So, I was surprised when we started talking and he wasn't ecstatic … to my brother, a very creative person, it was a reflection of what he had yet to accomplish. He has such high expectations of himself. So, I started to think more and more about what "making it" truly means.
The owner of the Snapple Theater runs a tight ship. She runs the theater, performs in eight shows a week, and is responsible for everything from the maintenance to casting to marketing. She's following her dream, working in the heart of New York City, doing what she loves, and I imagine it's all pretty stressful at times.
The illustrator of Piggy Nation moved to L.A. for nine months, got a job working on The Simpsons, and now lives back in Kentucky, working from home with his wife and small child, with another on the way. He isn't into Hollywood's glitz and glamour.
The writer of Piggy Nation first wrote a book, which turned into the musical. He had never even written a book before. He turned it into a children's play and now, two years later, it is debuting off Broadway. He has an unbelievably enthusiastic attitude. But, when the writer first put pen to paper, the goal wasn't to write a musical for Broadway. It was just an idea about a story that grew and grew and grew.
My brother's friend is struggling to find work in NYC. He's currently working as a production assistant and continuously has to look for work when a job ends or a show is cancelled. He is barely getting by, and lives in an apartment with strangers. He does all of this to follow his dream.
So, what have I learned about "making it" this weekend? It starts with a dream — your dream — burning so bright you can't do anything else but follow it! Each of these people are doing something they love and believe in, but it isn't without sacrifice. Each person has sacrificed in some way: time, comfort, money, being away from loved ones. The passion only takes you so far.
What separates those who "make it" from those don't? Hard work and persistence. Stick-to-it-ness! This musical almost didn't make it to New York, but because the writer didn't give up on his dream, it persevered. So, if you really want something, don't give up. You may get turned down, it may take years. You may work all day and be tired when you get home, but if you don't do it, who will? And, last but not least, you and only you, are the one who determines what "making it" means.
Katie Wells would love to hear your definition of "making it." Email her at katie@kewsolutionsinc.com.