Life in Black & White
Q&A with West Ashley photographer Jonathan Stout (aka BadJon) whose black & white portrait exhibit opens this week at Redux Studio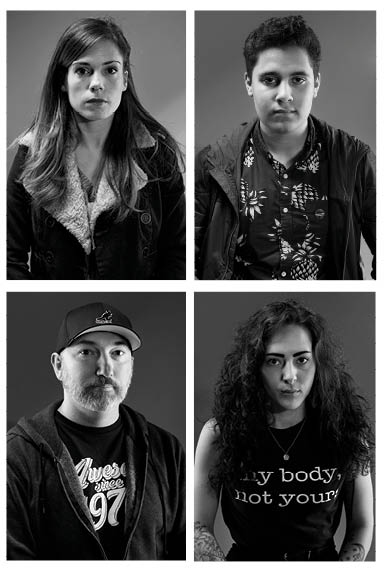 February 16, 2017
By Lorne Chambers | Editor
West Ashley resident Jonathan Stout is the man behind BadJon Photography. Well-known for his pictures of local musicians and artists, Stout continues to explore new avenues with his work. On Saturday, Feb. 18, Stout has a new exhibit opening at Redux Contemporary Art Center downtown that features more than 100 photos of black & white portraits of people from Charleston. There will be an opening reception from 6-9 p.m. and the exhibit will be on display at Redux through March 4.
Stout, who turned 32 last week, has been taking photos for more than 12 years. "At first it was more of a hobby, shooting at shows and for friends," he says. "But then I got into shooting weddings, events, and promotional band photos. He says he first got into it by experimenting with his buddy Rudy in high school.
Stout is from a Navy family so he lived in Hawaii and Guam until moving to Charleston since graduating high school, when his father retired. He has called West Ashley home for the past four years. West Of had a chance to catch up with Stout last week and talk about his new exhibit and his other works. Here is part of that conversation
WEST OF:  Tell us about your upcoming show at Redux?
JONATHAN STOUT: So far I have roughly 110 photos that I will be showing for this show. They range from bearded guys to mother's with their children. I tried to give a decent look into who makes up Charleston. I first had the idea a couple years ago but never fully understood what I wanted to do with it yet. I got the idea to show them all together when I got a great response from people wanting their portrait taken. I tried to capture the person's real self and I didn't allow them to smile or show much emotion. I want the viewer to look at the photo and think. With this project, I wanted to inspire people, especially the subjects.
WO: A lot of people around town know you for your music photos, but you also do a lot of other stuff — landscape, architectural, etc. What do you enjoy doing most right now as a photographer?
JS: I love to explore older buildings that are abandoned and try to capture their soul in my camera. I am doing a lot of long exposure shots lately and I have been using lights to paint the scenes along with the natural lighting. I still like to shoot music but haven't had as many opportunities lately to get to shows.
WO: Looking at your gallery online, it looks like you do a lot of color photos. Why did you decide to do a black & white portrait series for this show?
JS: I wanted to use black and white so that the viewer wasn't distracted by the colors of the clothing or hair of the subject and to give it more depth.
WO: I've heard some old school guys lament the shift to digital, do you prefer to shoot with film or digitally. And how has technology changed what you do?
JS: I have mostly done digital photography but did a little film in highschool. I think the technology is allowing everyone to be a photographer especially with iPhones etc, so it could be hard to stand out from the crowd, but that makes me want to work harder to get the right image.
WO: What's your advice for a young photographer wanting to do it professionally?
JS: Keep shooting and shoot what inspires you. Ask questions and experiment. Just keep shooting.