Life and Comedy After Death
5th Wall Productions presents ghostly play just in time for Halloween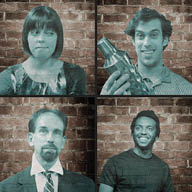 October 17, 2017
From Staff Reports
Just in time for Halloween, 5th Wall Productions presents Ghost Walks Into a Bar, a new play by Mora V. Harris. With this dark comedy, 5th Wall is bringing humor with a spooky twist, along with a sincere reflection of what it is that makes us human … and what it means to really live.
Oh, Connor's Bar and Comedy Club is a hub of paranormal activity, especially when it's Ghost Comedy Night, and especially since the shooting. A group of ghosts puzzles through the tasks they must perform in order to move on over fancy old-school cocktails and depressing stand-up routines. In the middle of it all, Ivy the one breather of the bunch, must make a choice between joining the ghosts permanently in the Ghost World or coming back to the land of living.
Ghost Walks Into a Bar will be presented at 5th Wall Productions, located in Citadel Mall (2070 Sam Rittenburg Blvd, across from Planet Fitness) on Oct. 20-21 and 27-29. All performances are at 8 p.m.
      Tickets for the show are only $15-$20 and can be purchased in advance through www.5thwallproductions.org.