Let Your Hair Down
Wilton Elder coordinates themed shows for Voodoo, starting with an '80s Dance Party on March 19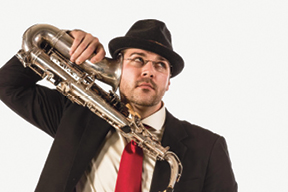 Starting on March 19, Wilton Elder will present special themed shows at Voodoo, featuring various local musicians.
March 11, 2015
By Jozie Konczal | Contributing Writer
Folks in West Ashley know Voodoo Tiki Bar & Lounge to be a high-energy and eclectic environment. "We aren't afraid to throw a big party," says Voodoo co-owner Jen Kulick.
Then it should be no surprise that Voodoo is multi-talented local musician Wilton Elder's venue of choice for unique special themed shows, like Jazz/Hip Hop/DJ fusion nights , last year's  J Dilla tribute show, and the Herbie Hancock show performed by Elder's band Super Deluxe. He thought of Voodoo as he brainstormed his latest: a series of themed shows set to take place on the third Thursday of the coming months.
Elder has developed local intrigue, not only through producing unique musical events, but also through his own projects, such as local funk band Super Deluxe. According to Kulick, Elder has a talent for drawing diverse Charleston crowds. She expects the crowds of the coming events to be full of energy, and hopes some individuals will be inspired to step up to the mic improve-style (it wouldn't be the first time). For these events, Elder aims to establish a party vibe. "Get ready to let your hair down."
The first show of this new series will be held Thursday, March 19. The theme of the first show will be '80s Dance Party. March musical guests will include Zandrina Dunning as well as Super Deluxe. Attendees can expect all their favorite '80s hits, including but not limited to, Michael Jackson, Whitney Houston, Journey, Madonna, Talking Heads, The Bangles, Lionel Ritchie, and Queen. Elder advises that attendees bring their dancing shoes and be prepared to get into the groove.
In the coming months, expect to experience other upbeat themes such as "Electric Herbie," a celebration of experimental jazz great Herbie Hancock's life and music in honor of his birthday. Other themes may include "Hip Hop Hit Parade," which Elder referred to as " the 'greatest sing-along anthems of all time' show." He is also considering "a producer party," featuring the music of Pharrell," which could include "a musical battle royale featuring a showdown between Elder and fellow local musician Mike Quinn. "Mike and I will take turns slaying the funk dragon with a choice rhythm section."
The '80s Dance Party, featuring Zandrina Dunning and Super Deluxe will be held Thursday, March 19 at 9 p.m. at Voodoo Tiki Bar & Lounge, located at 15 Magnolia Road. There is a $3 cover charge. For more info, call 769-0228 or visit voodootikibar.com.