Legally Blonde
WAHS's The Drama Studio to present their seventeenth musical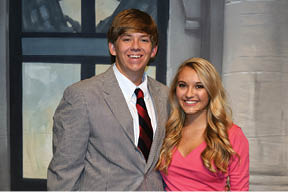 May 17, 2017
From Staff Reports
The Drama Studio at West Ashley High School has put on a Broadway caliber spring musical every year since the school opened in 2000. Some of their previous productions include Les Miserables, Ragtime, Little Shop of Horrors, The Blues Brothers, Shrek-The Musical, and Hairspray, to name a few.
This year The Drama Studio will produce Legally Blonde-The Musical, a fabulously fun international award-winning musical based on the adored MGM movie, Legally Blonde. The musical follows the transformation of Elle Woods as she tackles stereotypes, snobbery, and scandal in pursuit of her dreams. This action-packed musical explodes on the stage with memorable songs and dynamic dances. The show is both fun and heart-warming. Leads Payton Morelli, as Elle, and Emma Ferguson, as Paulette, sing with beauty and vitality. Bryan Garcia, as Warner Huntington III and Nick Denton, as Emmett Forrest, promise to enchant the audience with their warm renditions of the delightful story of Elle.
Legally Blonde-The Musical takes viewers from the sorority house to the halls of justice with Broadway's bright heroine, Elle Woods (and, of course, her Chihuahua, Bruiser, played by Bubba Cousins), and Paulette and her beloved dog Rufus (played by Wrigley Newton Hickman). This musical is ridiculously enjoyable, from start to finish with great music, talented dancers, and a permeating merriment.
Elle Woods appears to have it all. Her life is turned upside down, however, when her boyfriend dumps her so he can start getting serious about his life and attend Harvard Law School. Determined to get him back, Elle uses her charm to get into Harvard herself. At school, she struggles with peers, professors, and Warner Huntington III. Elle eventually astonishes the student body and the faculty with her unabashed audacity and naiveté while winning their respect and admiration – and the love of fellow law student Emmett Forrest – when she tries and wins a murder case (thanks to knowing well the principles and recommended care of a permanent wave), proving to one and all that being true to oneself never goes out of style.
The Drama Studio's production of Legally Blonde-The Musical features a large ensemble with a class of seventy talented drama students and a number of big song and dance numbers sure to entertain. Ellyn Winkles and Nancy Shurlds, co-directors of The Drama Studio, are both retiring from teaching this year. This year marks Shurlds' 50th year of teaching. Nancy Shurlds says they will both carry with them special memories of all their shows from their first, Joseph and the Amazing Technicolor Dreamcoat to their last, Legally Blonde-The Musical. Shurlds says, "We have been privileged to work with hundreds of students who have filled our stage with talent and dedication. Even in this one, our last show, we still depend on alumni for technical assistance, singing in the show, working backstage, and uncompromising dedication."
These co-directors of The Drama Studio express deep appreciation to the many who have enriched their trek through seventeen successful, difficult musicals with high school students. According to Shurlds, "The journey has not been an easy one because we have always sought quality performances with professional sound, lighting, and backdrops. However, what a loss for the two of us had we not had the opportunity to direct, know, and love the many young people who enriched our lives with their hard work, kindness, talent, and dedication to excellence."
West Ashley High School's The Drama Studio will present Legally Blonde-The Musical on May 17th, 18th, and 19th at 7pm. Doors open at 6:30pm. All tickets are $10 and can be purchased at the door or by calling 843.573.1201 ext. 5213 .