If You Need a Jerk, Call The Turk
Turky's towing first set up shop in West ashley in 1977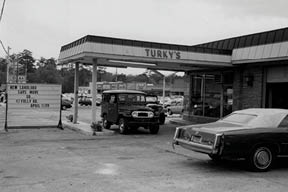 Turky's, previously Burky & Paul Shell, at the corner of Folly Road and South Windermere Boulevard in 1980. (Photography courtesy of Turky Burky)
February 23, 2017
By Donna Jacobs | Contributing Writer
Werner "Turky" Burky's first memories of life in St. Andrew's Parish were of the home his father, Howard F. Burky, built at 9 Penn Ave.. As a very young boy Burky explored the marsh along the banks of the Ashley River behind his home. Soon the heavy machinery and road construction used for the widening of St. Andrew's Boulevard caught his attention. Burky snuck out of the house and walked to the corner of Penn Avenue and St. Andrew's Boulevard to watch.
Burky became tuned into cars early from this time with his father and uncle, Elmore Gilmore. His fascination developed with every visit to the local gas stations. Burky's mother, Alva Willie Gilmore (nee) Burky bought gas, for her 1937 Oldsmobile, at Bunch's Esso Station located on Ashley River Road. Gas stations were full service at this time.
Mr. Bunch would sweep the car and tease Burky with his loud booming voice while pumping gas. When Burky was old enough, about 5 years old or so, Mr. Bunch allowed him to help pump the gas. Mr. Bunch also owned a tow truck. Once while the Burkys where at the station for gas, Mr. Bunch received a call about a Cadillac that had become stuck in the mud on the road to the new Heathwood development.
Mr. Bunch invited Burky to come "as long as he didn't get in the way." Burky gleefully accepted and rode quietly along side with great anticipation of the excitement to come. Mr. Bunch allowed him to work the winch control while he walked the towline to the Cadillac. Burky was hooked. This first encounter with the towing industry set the stage for his future.
Norman's Texaco at the corner of Farmfield and Savannah Highway gave Burky his first official job with a gas station. At first, he would sweep the floors and fill the drink machine. Next he graduated to washing car windows and filling the gas tanks. During this time, his friendship with Miles and Bill Hanckel gave him the opportunity to learn how to drive and handle the Coburg wrecker, when their escapades required a tow truck.
All of this led up to a partnership with Hugh Paul for the ownership of a gas station. Burky & Paul Shell at the corner of South Windermere Boulevard and Folly Road came to be in 1977.
And the rest is Turky's Towing history: visit www.turkystowing.com for more information.
Interesting stories about West Ashley's history? Contact Donna Jacobs at westashleybook@gmail.com.