Honoring Mr. Johnny
Artist Sharon Turk touches the heart by capturing the eyes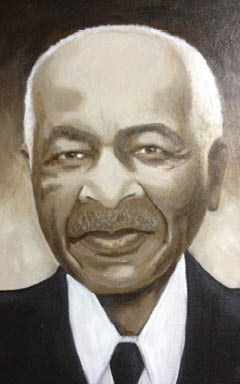 October 11, 2017
From Staff Reports
Sharon Turk, an artist and nature train guide at Magnolia Plantation and Gardens, recently brought tears to the eyes of a family that has a long history with the gardens on the Ashley River.
On July 25, 2016, Johnnie Leach, Magnolia's senior gardener passed away at age 93. Mr. Leach lived with his family in one of the cabins that is currently part of the Slavery to Freedom program at Magnolia from the late 1940s until 1969. Mr. Leach, affectionately known as "Mr. Johnnie", later lived in a modern dwelling at Magnolia until the time of his passing.
The Leach family has been an important part of Magnolia since Mr. Leach's father Willie Leach was a garden superintendent there. Johnnie Leach's sons and a grandson continue their father's legacy of service to the gardens at Magnolia.
Mr. Leach's passing touched Turk, whose own family has a connection with Magnolia. Her parents are Magnolia volunteers. "The Leaches lost their dad and that is heartbreaking, and my family has a history with their family," Turk said. "The Leaches have been the kindest and warmest people."
To express her feelings, Turk used her art, an acrylic painting on canvas. "That is what I know how to do, paint a portrait" of Johnnie Leach. She wanted it to be a surprise. She asked Mr. Leach's grandson Jackson Leach, a Magnolia gardener, to quietly pass her a picture of his grandfather. That part of her plan was easy. Creating a portrait that she was happy with was not.
She rejected multiple versions of her work until she had an image that depicted Mr. Leach's kind eyes. "On the fourth painting, I finally felt I was getting there," Turk said. "Then I showed it to Jackson, and he said I nailed it."
Turk recently presented the painting to Mr. Leach's sons, Isaac and Teddy Leach, who saw through teary eyes Turk's image of their father.
"Sharon got his eyes to a tee," Isaac said emphatically.
Teddy choked back tears. Turk's portrait is so real "it was like he was right there with me. That's my dad. I miss him every day."