Home Team BBQ Rocks The Block
Local BBQ restaurant Raises Money for Hogs for the Cause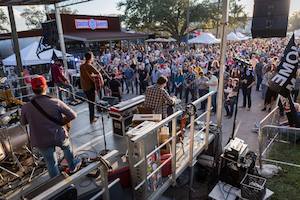 February 12, 2018
From Staff Reports
Ever since Home Team BBQ opened its first restaurant along Ashley River Road more than 10 years ago, the owners of the West Ashley restaurant have worked hard to give back. As they continued to grow, opening other locations on Sullivan's Island, in downtown Charleston, and  in Aspen Colo. they've maintained a philosophy of giving back when they can. Over the last decade Home Team BBQ has raised thousands of dollars for various charities and donated food for many fundraisers.
On Saturday, Feb. 24 Home Team BBQ is doing it again but in typical Home Team fashion with  its inaugural Hogs For The Cause fundraising block party, 'Rock the Block,' The event will be held from 11 a.m. to 6 p.m. at its downtown location. Admission is free and food and beverages can be purchased from the various chefs' tables and satellite bars throughout.
Local and regional guest chefs from various culinary backgrounds will come together to prepare two or three menu items with the use of Big Green Egg grills, thanks to the company's donation. The partnering chefs and restaurants donating their time and talent include: Home Team BBQ, Shuai Wang of Short Grain, Bob Cook of Edmund's Oast, Sam Jones of Sam Jones BBQ, Jonathan and Justin Fox of Fox Bros Bar-B-Q, Eddie Hernandez and Mike Klank of  Taqueria del Sol, and goat.sheep.cow.
Home Team BBQ Beverage Director, Adam Rothstein, and Jayce McConnel of Edmund's Oast will team up to create several unique cocktails for the party, using spirits provided by Virgil Kaine and other partners. And Home Team and Edmund's Oast Brewing Co. (EOBC) will collaborate on a limited-edition, easy drinking American Amber beer to be released at the event and henceforth sold at all Home Team BBQs and Edmund's Oast locations while supplies last!
During the event, guests can look forward to live music from amazing regional touring artists T. Hardy Morris, BJ Barham of American Aquarium, The Artisanals, and Hans Wenzel & the Eighty Sixers on two separate stages.
Raffle tickets will be sold for the chance to win various prizes, including a Big Green Egg grill, with all proceeds benefiting Hogs For the Cause. Family-friendly activities, including a Jumbo Jump Castle from Charleston Fun Factory, will be located throughout the festival on a closed-off Williman Street. Home Team BBQ's restaurant will continue regular menu and bar service throughout the day.
'Rock the Block' will raise funds for New Orleans-based 501c(3) organization Hogs For The Cause, the country's premier funding source for monetary relief to families with children who suffer from brain cancer. For more information, visit Hogs for the Cause online at www.hogsforthecause.org. The event is presented in partnership with Edrington, Sysco Corporation, Big Green Egg, Coca-Cola, Stage Presence Event Rentals, LLC, and Hope Sound.
Rock The Block will be held on Saturday, Feb. 24, 11 a.m.-6 p.m. at Home Team BBQ downtown, located at126 Williman St. For more information, visit www.hometeambbq.com