Home of the Braves
West Ashley team is Triple Crown Summer National Champions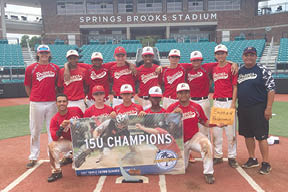 Pictured from left to right, back row first: Bryce Brown, Gabe Smith, Donovan Accerbi, Grayson Auerbach, Robbie Brown, Bryce Morris, Garrett Dunn, Chace Cooper, Coach Alan Cooper. Front row, left to right: Elijah Baker, Connor Sibbald, Colby Searson, Trapper Watkins, Vonnu Elias, and not pictured Stephen Holderness.
August 16, 2017
By Lorne Chambers | Editor
The Charleston Braves 15U travel baseball team out of West Ashley was the sole representative of South Carolina in the Triple Crown Summer Nationals Baseball Tournament, which was recently held in Myrtle Beach and featured teams from all over the country, including New Jersey, Pennsylvania, and Georgia.
The five-day tournament, which was held at the end of July, concluded with the Braves facing off against the Georgia Xtreme in the stadium that is home to the 2016 National Champion Coastal Carolina Chanticleers. The Braves, who entered the final undefeated (5-0), ultimately beat the team from Newnan, Ga. in a hard-fought two-game battle.
Charleston Braves head coach Alan Cooper says a big reason for the team's success was their solid starting pitching, but also gives the Brave's offense a lot of credit too.  "We had four young men that each pitched a complete game," he said. "Our offense and run production was exceptional while our defense was flawless."
According to Cooper, at no point did his team ever feel as if they weren't going to be successful. "They played with a focus and confidence that clearly made every opponent believe that the Charleston Braves were playing to be champions," he said.
Cooper has strong ties to the West Ashley baseball community. He has been an assistant coach at West Ashley High School and coached the 2005 Dixie World Series champions from St Andrews Parks & Playgrounds. He says there are similarities in the 2017 Charleston Braves and that 2005 World Series Championship team he coached.
"Both teams possessed extraordinary individual talent. The common denominator was that no individual or one talent could accomplish this alone. Each group understood that a commitment to each other and supporting them in good and bad times was the key to their championships. Winning the championship was the only option they ever considered," says Cooper. "Each team member has individual talents that makes each a great ball player. However they understand that those talents have to be brought together under a team vision and commitment to achieve victory. Most have been together for several years and have bonded like a large family. Each young man possesses great talent but more importantly a great commitment to each other."
While this is the end of the road for this particular travel team, Cooper is confident that this particular group of young men will continue to compete at the highest level in their respective age groups over the next few years, with eventually having the opportunity to be recruited and play college baseball.