Here Come the Wildcats
WAHS startS season off on right foot, look to take the next step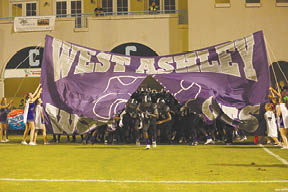 Photo Courtesey of Tumbleston Photography Studios West Ashley
August 23, 2017
By Lorne Chambers | Editor
It's become kind of a cliché in football: "One week at a time." It's a mantra that football coaches from peewee leagues on up to the NFL recite to their teams and fans constantly. It's a way to keep the team focused on the immediate challenge at hand and a way to temper expectations for fans. But of course coaches, players, and fans look ahead.  And as West Ashley High School opened up their 2017 season last week, head coach Bobby Marion took a moment to talk to West Of about the season and about expectations.
"We want to win more than 6-7 games this year and move on in the playoffs and take that next step," he said. That means, having a winning record, returning to the playoffs, and making it out of the first round of the playoffs this year. Something that West Ashley has struggled to do since the merger of St. Andrew's and Middleton High School back in 2000.
Marion has been there for 10 of those seasons and although there have been plenty of bright spots and plenty of talent passing through the program, as he begins his 11th season as the Wildcats' coach, Marion is feels the team is ready to take that next step. "We feel like we can contend and be at the top of the region," said Marion, who understands that a brutally tough region, that consists of perennial powerhouses like Summerville, Fort Dorchester, Stratford, and Goose Creek.
"You really pick your poison in this region," said Marion. Throw in rivalry games against teams fellow region opponents like Wando and James Island, and out-of-region games against tough opponents such as Bishop England, and you have a tough road to the playoffs. Marion believes the 2017 Wildcats have the talent and ability to do it and perhaps surprise some folks along the way.
Defensively, the 2017 WAHS football team is loaded with returning players and should be solid down the stretch as the Wildcats make their way through Region 7-AAAA. The defense will be led by seniors Kamden Middleton at linebacker, cornerbacks Josh Hayward and Myles White, and defensive linemen Antonio Knox and Jay Smith. Smith is a preseason All-Lowcountry selection by the Post & Courier. The experienced defense should keep the Wildcats within striking distance.
It's the Wildcat offense that's replacing players at several key positions from last year's 6-6 playoff team, including quarterback. "We lost our quarterback, but we feel like we have one just as good," said Marion, referring to junior Kenyatta Jenkins.
Marion is looking to Jenkins to lead the Wildcats this season on offense. Although it's his first season starting under center for WAHS, Jenkins is used to the leadership role. He plays point guard on the WAHS basketball team.
According to Marion, the Wildcats will utilize the option more this season with Jenkins. "He's a mobile quarterback, an athletic quarterback that will be able to put pressure on the defenses running and throwing," said Marion. Jenkins did both in the Sertoma Classic scrimmage on Aug. 11 when he ran for a score and threw for one.
Another weapon that WAHS has is a bruising fullback in junior Yaphett Bienvenu, who at 225 pounds is strong but surprisingly quick on his feet. Marion said that Bienvenu also has good hands and will used in the passing game. Behind him the Wildcats have two good tailbacks in junior Dwalynn Deleston and senior Jordan Pettigrew, a standout in track & field and wrestling at WAHS.
Despite having a strong running game, Marion said that the Wildcats aren't veering too far from the offensive game plan that they have used effectively over the last several years. He said you can expect to still see a lot of spread offense, and look for Jenkins to get the ball to his favorite targets, tight end junior Dominique Kershaw and senior wide receiver Rodney Griffin.
Marion said the biggest weakness the Wildcats have right now is depth. "Our 22 starters are pretty good," he said. "But we have to find some quality depth. We're thin at the corners and thin at linebacker." Marion said they've been forced to "cross-train" several of their players on both sides of the ball, something that is particularly hard on the big boys on the offensive and defensive line."
So far the Wildcats have looked strong, topping Stall High in the Sertoma Classic preseason scrimmage 14-6 on Aug. 11 and winning the season opener on Aug. 18 by the score of 34-14 over Colleton County on the road. This Friday, Aug. 25 the Wildcats host the home opener against Bishop England High School at 7:30 p.m. at Wildcat Stadium.