Growing New Farmers
MIddleton Place organic farm takes on a bigger roll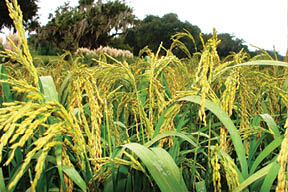 March 15, 2017
From Staff Reports
Under the leadership of Josh Adams, the Middleton Place Organic Farm is poised to ramp up its contribution to the Middleton Place Restaurant and the community at large through its engagement with the Growing New Farmers program at Lowcountry Local First. Conceived in 2010 to address the need for fresh blood in the ranks of working farmers, the program is already making an impact and contributing to a healthy local food system throughout the region.
Beginning this April and ending in September, participants in this year's program will get much of their hands-on training at Middleton Place and its Organic Farm. The success of the Organic Farm is, in no small measure, the result of the training that Josh received when he was enrolled in the Growing New Farmers program prior to joining Middleton Place. If you know anyone who may be interested in this year's class, applications are being accepted until Friday, March 17. See this link for additional information: https://lowcountrylocalfirst.org/gnf-apprentice-program.
The fruits of Josh's labors – and that of his assistant farmers (one a current intern in the Growing New Farmers program) – are evident in just about every meal visitors enjoy at the Middleton Place Restaurant. Crops that go from the Organic Farm to the Restaurant's table currently include kale, cabbage, turnips, radishes, carrots and broccoli. That contribution has greatly reduced the Food & Beverage department's dependence on outside vendors for produce needed at the Restaurant and for catering operations at the Pavilion.
If you or people you know are eager to get a little dirty and work up a bit of a sweat, the Organic Farm can always make good use of volunteers! For more information, please contact Josh Adams at (843) 266-7475.