Gratitude is An Attitude
Acts of kindness, big and small, are just as great to give as they are to receive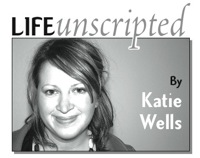 December 19, 2013
By Katie Wells
I've been thinking about gratitude lately. Mainly because I've been feeling particularly grateful. I'm healthy, finishing up graduate school, and life is generally good. But recently, I had two unexpected acts of kindness bestowed upon me that caused me to re-think my own actions.
The first act of kindness was a party. One of my clients threw me a graduation party to celebrate the completion of my Master's Degree. The party was an unanticipated gesture. Now, for those of you who know me, then you know I'm a bit of ham, but the thought of a party where I was the center of attention, made me a little uncomfortable.
The attendees were my colleagues from the hospitality industry. On the eve of the party, I was a little nervous, but as the guests started to arrive, all the nerves went away and were replaced by fun and feelings of gratefulness.
One of my colleagues wrote me a poem, my former professor gave me a card with a touching sentiment, and my friends and colleagues presence at the party blew me away. I was reminded of just how grateful I am.
Then, the following week, I received a letter from two readers of this column. It isn't often I receive a real piece of mail! It was a sweet letter encouraging me to continue writing and expressing their enjoyment of the column. It truly made my day!
After a week of being on the receiving end of people's kind gestures, I was reminded how important it is to do those kind gestures for others. The two unexpected acts of kindness I received made my week and have and will continue to leave a lasting impression on me.
It reminded me that I need to send the "thinking of you" cards that I mean to, or tell a friend how much they mean to me when I think of it, or create a special event for someone when I can. These acts of kindness mean so much to the people on the receiving end and not just on the day of receipt but on the days that follow with the memories created. By taking time to stop and recognize the things in our life we have to be grateful for, the happier we are and the more we notice the good. The next step is paying it forward by taking the time to make someone else's day. I'm sure grateful people did it for me!
Katie Wells recently completed her Master's Degree in Human Resources from Villanova University. She is a Charleston-based international hospitality trainer and assistant professor at the College of Charleston. You can reach her at kewsolutionsinc@gmail.com.