Good To The Last Drop
Coffee & beer are brewed at Twisted Cypress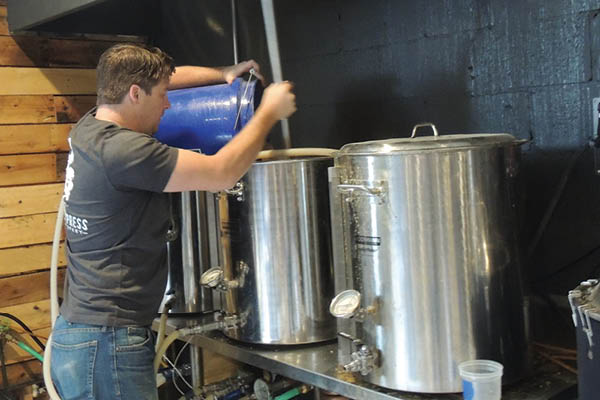 Head brewer Hunter Eisele adds grains to the brew.
April 20, 2017
By Lorne Chambers | Editor
With nearly 20 breweries and counting in Charleston (three right here in West Ashley), it's hard to stand out in the crowd. But the owners of Twisted Cypress Brewing Co., that recently opened on Sam Rittenberg Boulevard, have got a couple tricks up their sleeve … or should we say twists?
Twisted Cypress is more than just a craft brewery. It's a boutique brewery and a coffee shop all in one. That's right, there's more than tasty pale ales and porters brewing in the building that formerly housed the lodge for the Loyal Order of Moose fraternal organization. Before the first beer is poured at 4 p.m. during the week and noon on the weekends, there is local-roasted coffee being brewed from 7:30 a.m. until noon Monday through Saturday.
The Coffee Haus at Twisted Cypress is headed up Mariel Gaitling, a West Ashley resident who put a lot of sweat equity into the business when she helped the owners Rich Gubsch and Hunter Eisele  turn the run-down and dated Moose Lodge into a hip, brewery and coffee shop.
As soon as you walk into Twisted Cypress, which just officially opened its doors last month, you realize that this is not a pretentious kind of place. The DIY and upcycled vibe is blatant with the creative use of bed rails and salvaged wood to create a real rustic feel inside the tasting room.
Head brewer Eisele takes this same environmentally-conscious approach to his brewing, which is done on a system that is noticeably smaller than most other breweries in the area. According to Eisele, he's able to average about one barrel a day, which is the equivalent to 31 gallons of beer. Therefore, you won't see a vast selection and when a particular beer is gone, it's gone until they can brew some more. On opening weekend, they completely ran out of beer.
Because of the limited production, Twisted Cypress only has a handful of beers on at any given time, including their standards like the Carolina Common, Spottail Amber, Farmhouse Wit, and Dark Harbor Black IPA. Eisele also has some seasonal and more experimental brews at any given time, like the Apricot Blonde and a coffee porter, which uses the same beans the Coffee Haus uses in the morning from Charleston Coffee Roasters, which are roasted right here in West Ashley.
Twisted Cyperss Brewery & Coffee Haus is located at 1897 Sam Rittenberg Blvd. For more information, call 608-1899 or visit www.twistedcypressbrewingco.com.