Going Snowblind
5th Wall Productions stages world premier of award-winning playright Laura King's newest play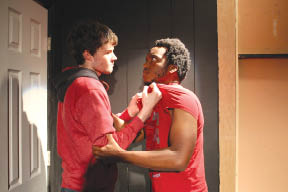 Cameron White and DeShawn Mason let their emotions get the best of them in Snowblind.
March 8, 2017
From Staff Reports
A snowstorm builds outside as four recovering addicts at an Narcotics Anonymous meeting struggle to face their addictions. When a stranger arrives and the exit is cut off, they are forced to question the beliefs that help them cope, and the road to recovery starts to look like a dead end. This is the premise of Snowblind, a brand new play from award-winning playwright Laura King. Starting this week, 5th Wall Productions presents the world premiere of Snowblind.
Operating out of the Citadel Mall, 5th Wall Productions is West Ashley's only working threatre. According to Blair Cadden, 5th Wall's artistic director, Snowblind keeps with the company's mission of developing and producing new and challenging works. This show contains adult subject matter and is recommended for mature audiences only.
"Snowblind is a fantastic script to work with. It has moments of beauty, tragedy, and hope mixed throughout," says Cadden. "Laura (King) has created an ensemble of vivid characters, and it has been an exhilarating experience to watch these five actors bring them to life for the very first time. While we may not all have experience with the specific journey of addiction and recovery, I believe we all can recognize the struggle to find something to believe in when life seems dark."
King is an award-winning playwright who resides south of Atlanta. Her plays have premiered at theatres in New Orleans, Roanoke, Vir., Atlanta, and Knoxville, Tenn. She holds an MFA in playwriting from Hollins University and is an instructor of theatre at Gordon State College. Her plays are available at StageRights, YouthPLAYS, Polychoron Press, and the New Play Exchange. King is a proud member of the Dramatists Guild. She's also the recipient of the first-ever Ready to Publish award, which is presented annually by Stage Rights and the Southeastern Theatre Conference (SETC).
Snowblind will be presented March 17-19 and 24-25 at 8 p.m. 5th Wall Studios is located in Citadel Mall, 2070 Sam Rittenburg Blvd, across from Planet Fitness). Tickets for the show are $15-$20 and can be purchased in advance through www.5thwallproductions.org.