Frothy Beard Expands … Again
To keep up with demand, West Ashley brewery triples capacity after being open one month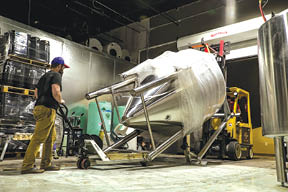 May 11, 2017
From Staff Reports
Frothy Beard's new 30-barrel tanks arrived last week, tripling the brewery's capacity after being open just five weeks.  The big expansion comes nearly nine months ahead of schedule as demands for Frothy beer continue to skyrocket.
"We just can't brew beer fast enough," said brewer Joey Siconolfi. "Beers are flowing out of the taproom so quickly that we can barely distribute to bars and restaurants. Demand has exceeded our projections and our wildest dreams."
The new expansion will ensure that Charleston area bars and restaurants can get all the kegged Frothy beer they want and enable the brewery to continue its statewide expansion.
"The taproom has been completely slammed since we opened.  This expansion will allow us to keep twenty unique beers in the taproom while distributing our flagship beers across the region," said co-owner Michael Biondi.
Frothy Beard Brewing Company brewed 624 barrels in 2016 at it's original North Charleston location.  It was projected to brew 1,300 in 2017 after it's move and expansion. It is now projected to brew 2,700 barrels in 2017 with the capacity for 4,000 barrels in 2018.
The beards behind Frothy Beard hope they'll begin canning in a few months.
Frothy Beard Brewing is co-owned by Michael Biondi, Steve McCauley, Joey Siconolfi, Wesley Donehue and Scott Howell. They are distributed by Lee Distributors in Charleston and Hilton Head, Comer Distributing in Columbia, Rock Hill and Aiken and Bear Island Distributors in the Upstate and Myrtle Beach.
Frothy Beard Brewing is located at 1401 Sam Rittenberg Blvd. For more information call 872-4201 or visit www.frothybeard.com.