Former First Lady Helps Local School
Stono Park get boost from Laura Bush Foundation Grant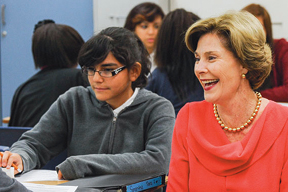 May 26, 2016
From Staff Reports
"Once a child learns to use a library, the doors to learning are always open," said former First Lady Laura Bush. It's her Foundation that is helping one West Ashley School improve its library for its students and teachers.
The Laura Bush Foundation for America's Libraries announced the selection of 130 schools from 30 states this week to receive more than $830,000 in support for school libraries. There were five schools selected in South Carolina to receive this grant and all five are Charleston County School District (CCSD) schools.
Among the five Charleston area schools that were selected to receive grant money is Stono Park Elementary School in West Ashley. The other schools that were selected were Baptist Hill Middle-High School, St. John's High School, St. James-Santee Elementary School, and E.B. Ellington Elementary School
The Laura Bush Foundation for America's Libraries provides grants of up to $7,000 to schools in need so they can extend, update, and diversify the book and print collections in their libraries with the goal of encouraging students to develop a love of reading and learning. Since the grant began in 2002, 21 CCSD school libraries have received the funding.
Stono Park Elementary teacher/librarian Ashley Illig will use the grant to diversify the school's collection. "If I can't show the students the world first-hand, I want them to experience it through books and research," said Illig. "A portion of the grant funds will go to updating our collections on the states, as well as buying a great collection of books on different parts of the world. The rest will help purchase audio-books, an updated collection of community helper books for younger students, and award-winning fiction."
Support from organizations like the Laura Bush Foundation help school libraries introduce students to new experiences and provide additional opportunities for learning. School librarians often look to grants as one way to expand and update their library collections.
"This grant will enrich our school's library collection by adding fifty-seven Spanish-language books to balance our collection and to serve the needs of our students who speak Spanish as a first language. Adding diversity in language to our collection translates to adding beauty to our collection," said Nancy Allegood, teacher librarian at Baptist Hill Middle-High School.
For more information on the Laura Bush Foundation for America's Libraries, visit www.laurabushfoundation.com.