Flood of Concern
Bees Ferry homes always in the path of harm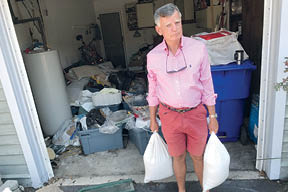 Bridge Point neighborhood association president John Knipper is looking for answers, solutions
September 21, 2017
By Bill Davis | News Editor
How many more kicks of the mule can the Bridge Point neighborhood endure? And what can residents of the area off Bees Ferry Road learn by so many soggy kicks?
Last week, Bridge Point neighborhood association president John Knipper welcomed a bevy of political heavyweights to his damp house in the wake of Hurricane Irma: U.S. Congressman Mark Sanford, Charleston Mayor John Tecklenburg, State Sen. Sandy Senn, State Rep. Lin Bennet, a member of U.S. Sen. Tim Scott's local office, City Councilman Dean Riegel, and various municipal officials.
On the agenda for this political convergence was what can be done for the flood-prone cloister of homes that keep getting inundated with every "rain event" the area gets hit with.
Think: Joaquin, Matthew, and Irma. And the hits may still keep coming this fall, as hurricane season is still going strong.
Each time the weather gets especially wet, Knipper and his neighbors see their homes welcome inches and inches of water into them, ruining sheetrock, flooring, and belongings.
Knipper says that anytime more than 5 inches of water falls from the sky, his home, and others built on slabs are vulnerable to flooding.
"We seem to tolerate anywhere from 5 to 6 inches, but beyond that, if there's a potential for 8 to 9 inches, it's a fait d'accompli," says Knipper, who told Tecklenburg that he'd rather suffer through one 5-foot flood than four or five floods of 1 to 30 inches, as each smaller flood can mean the same in expensive home renovations.
Knipper is calling for the dredging of a nearby pond to offset some to the wetlands lost to development.
But that solution may address the icing and not the cake. City stormwater engineer Steve Kirk says that six inches of rain could result in "several" million gallons of runoff — far more than a mere pond could possibly handle.
Additionally, Kirk says a home's location could make it especially vulnerable to different kinds of weather side-effects, like storm surge for those closer to bigger bodies of water bversus those that get flooded by heavy rains.
Sanford has been looking into a Plan B solution on the federal level for months. In the past, he has been doubtful on a FEMA grant coming through to buy all the affected homes.
Now, says Laura Cabiness, the director/city engineer at the City's Department of Public Service, while holding her thumb and pointer finger less than inch apart, "We are thiiiis close." But any federal solution has been put on hold, as FEMA has directed all of its available funds at the gulf-states destruction caused by Hurricane Harvey.
As a result, Tecklenburg said 'we're going to have come up with Plan B,' according to Cabiness.
Thankfully, Knipper and other nearby residents say that Irma had a lighter effect than did Matthew or Joaquin.
Janet Segal, who lives a few turns away from Knipper says that water from Irma didn't get into her Shadowmoss house, for once. "But a tree did fall over on our fence that keeps out wild hogs," she says, grateful for a smaller cleanup this time.
Senn is working on a solution on a state level, focusing on getting help from the departments of Transportation (DOT)and from Health and Environmental Control (DHEC).
"I actually saw minnows and fish swimming in one residents home," while touring the initial damage, says Senn. One resident told her she's received more in federal relief and insurance claims than her condominium is worth.
"It's silly," says Senn, who has pushed for DOT to send cameras down the various drain pipes it installed as part of the Bees Ferry Road expansion project, which many residents blame for the uptick in flooding.
"We need to make sure there are no blockages, failures, or problems with the overall engineering," Senn says. "Residents have told me that some drain pipes that were supposed to be 36-inch, were actually only 24-inch pipes. We need to find out if that is accurate, and DOT has said that if they are responsible for it, they will pay for it."
Senn says her nose told her something else was amiss when she earlier toured the area. "It smelled like poop." So she is now working with DHEC to get the storm runoff water tested for fecal coliform, just like as it's being done on the peninsula.
Senn says she expects the area's flooding problems date back to when the U.S. Corps of Engineers issued inaccurate flood maps of the terrain decades ago, causing homes to be built too close to the ground.
Senn is encouraging everyone in the area affected by Irma to not "go it alone" in repairs, but to report damage to their insurance companies, as the numbers of claims climb so the possibility of federal bailout money.
Cabiness says those maps have since been updated, and that the city is expecting a full report on the drainage issue from a national engineering firm with a local office in October that will help show the direction everyone has to take together to solve the flooding issue.
A public meeting for the Church Creek Drainage Basin Study will be held Thursday, Sept. 21, from 6-8 p.m. in the Citadel Mall Center Court in order to gather public feedback on the study.